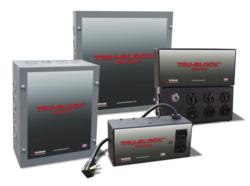 Frenchtown, New Jersey (PRWEB) December 16, 2011
Zero Surge, a leading USA manufacturer of failure-free surge protection solutions for over 22 years, recently announced its new Tru-Block line of surge protection and power quality products designed for the electrical contracting industry.
Tru-Blocks branch circuit facility filters and plug-in products have low let-through levels of only 330V and wide voltage range capability of up to 175V making them an ideal alternative to the higher let- through levels and narrow operating voltage range of traditional whole building surge protection systems.
According to Rudy Harford, Zero Surges Chief Engineer, The Electric Power Research Institute has concluded, and Zero Surge has confirmed using Underwriters Laboratories data, that the concept of a metal oxide varistor (MOV) based, whole house surge protector is a myth — it does not exist. Typical main panel branch circuit protectors have high let-through levels of around 700-1000V so they require supplemental plug-in protectors with lower let-through levels of around 400V for sensitive electronics. The plug-in protectors will turn on first and the branch circuit protection claimed to be the first line of defense will remain dormant, rendering it useless.
Tru-Blocks patented, award winning technology is available in panel mount and point of use models from select electrical distributors for residential and commercial applications. For more information, please visit http://www.tru-block.com or call 800-996-6696.
Zero Surge Inc. manufactures non-degrading panel mount, plug-in, and OEM power quality filters that suppress worst case surges and perform EMI/RFI power line conditioning. The products eliminate the surge damage and equipment loss often experienced with sacrificial metal oxide varistor (MOV) type surge suppressors. Zero Surge units have been installed in corporations, medical facilities, universities, utilities, banks, ocean vessels, as well as in military, government, manufacturing, retail, and residential applications. In business since 1989, there have been no reports of surge failures, fires, or product recalls in the companys history. For more information, visit http://www.ZeroSurge.com.
###







Find More Electronic Circuits Press Releases