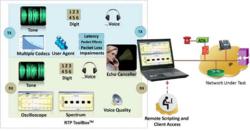 Gaithersburg, Maryland (PRWEB) May 01, 2012
Gaithersburg, Maryland, USA -April 30, 2012- GL Communications Inc. a leader in providing PC-based test, analysis and simulation products and consulting services to the worldwide telecommunications industry, conveyed today the availability of its RTP ToolBox product software.
Speaking to media persons, Mr. Karthik Ramalingam Senior Manager of the company said, GL's RTP ToolBox is a RTP packet testing and simulation tool, which is designed not only to monitor RTP and RTCP packets, but also to allow users to manually create and terminate RTP sessions, independent of call-signaling protocols such as SIP, H323, MEGACO, or MGCP.
He added, The RTP ToolBoxTM can be used for testing and developing enhanced voice features (VAD, echo cancellation, codec, digit regeneration, digit generation, fax over IP, jitter implementation etc) within end-user equipment (IP phones, ATA, MTA etc), testing media gateway telephony interfaces, end-to-end network testing before and during VoIP deployment, automated testing of digital signal processing embedded into network elements.
RTP ToolBox Testing Applications