There are several ways to produce a negative voltage from a positive voltage source, including using a transformer or two inductors and/or multiple switches. However, none are as easy as using the LTC3863, which is elegant in its simplicity, has superior efficiency at light loads and reduces parts count compared to alternative solutions.
Advanced Controller Capabilities
The LTC3863 can produce a –0.4V to –150V negative output voltage from a positive input range of 3.5V to 60V. It uses a single-inductor topology with one active P-channel MOSFET switch and one diode. The high level of integration yields a simple, low parts-count solution.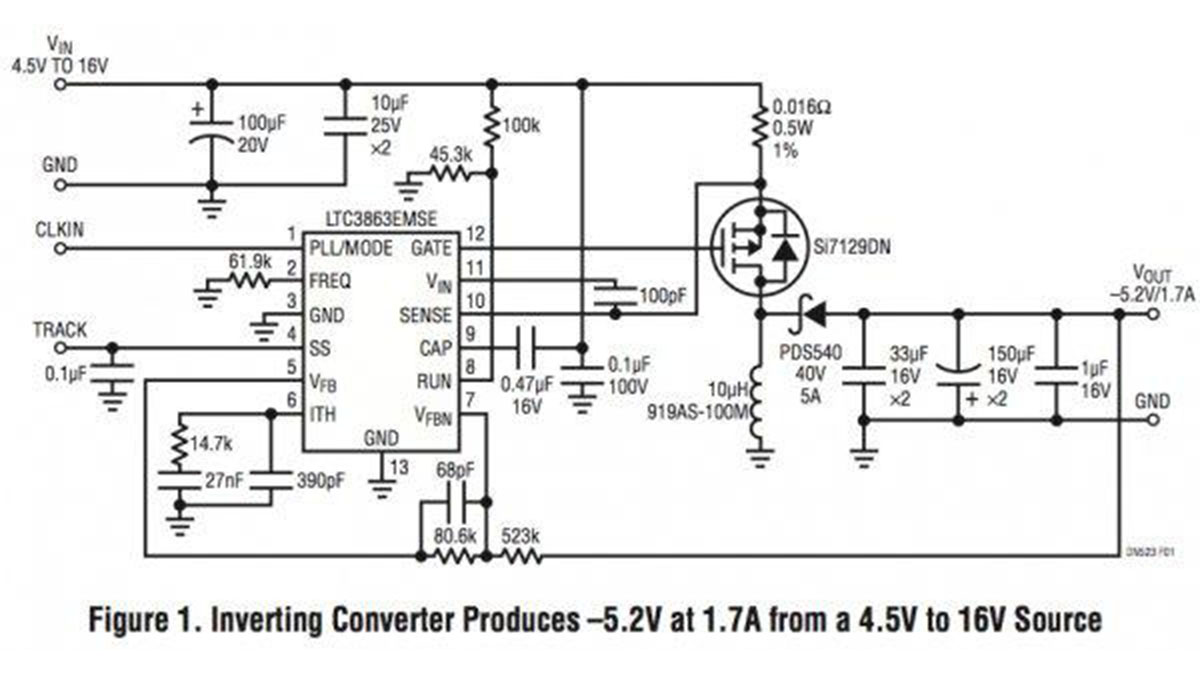 The LTC3863 offers excellent light load efficiency, drawing only 70μA quiescent current in user-programmable Burst Mode operation. Its peak current mode, constant frequency PWM architecture provides positive control of inductor current, easy loop compensation and superior loop dynamics. The switching frequency can be programmed from 50kHz to 850kHz with an external resistor and can be synchronized to an external clock from 75kHz to 750kHz. The LTC3863 offers programmable soft-start or output tracking.
Safety features include overvoltage, overcurrent and short-circuit protection, including frequency foldback.
–5.2V, 1.7A Converter Operates from a 4.5V to 16V Source
The circuit shown in Figure 1 produces a –5.2V, 1.7A output from a 4.5V–16V input. Operation is similar to a flyback converter, storing energy in the inductor when the switch is on and releasing it through the diode to the output when the switch is off, except that with the LTC3863, no transformer is required. To prevent excessive current that can result from minimum on-time when the output is short-circuited, the controller folds back the switching frequency when the output is less than half of nominal.
For more detail: AppNote: Inverting DC/DC controller converts a positive input to a negative output with a single inductor