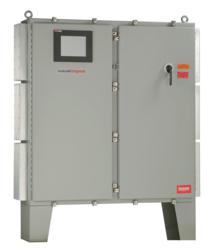 Pittsburgh, PA (PRWEB) April 05, 2011
Chromalox, a leading manufacturer of electric heat and control products, is expanding its intelliTRACE family of multiloop heat trace control panels with introduction of the ITLS Series for line sensing and ITAS Series for ambient sensing. Both product lines offer a compact design that combines temperature control, monitoring, and power management in one package.
Designed for industrial use in non-hazardous locations, both product lines offer 40 amps per circuit, with support for up to 72 circuits; SCR control; large touch screen interface, customizable sensor mapping and remote monitoring. The panels support up to 36 loops, with expansion capabilities to 72 loops using matching extension panels.
To ensure ease of use, the control panels feature a 10-inch touch screen computer interface that displays alarm status, set point and process temperatures, and manual and automatic over-ride control for six loops at a time. These controls are accessible locally or anywhere in the world via remote desktop capabilities.
The control panels include both MODBUS