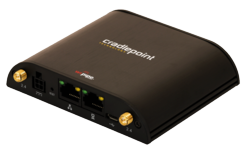 Boise, ID (PRWEB) April 30, 2012
CradlePoint, a leader in 4G/3G wireless networking for enterprise, today announced the availability of its new COR Integrated Broadband Router 600LE. Built for the unique requirements of the machine-to-machine (M2M) market, the CradlePoint COR IBR600LE incorporates embedded dual-mode 4G/3G connectivity that allows customers to access and capitalize on the fastest available wireless network. The COR IBR600LEs small form factor provides a flexible, reliable, and secure solution within high-bandwidth applications at the speeds of Verizon 4G LTE.
Prospective customers, OEM partners and the M2M industry at large have an opportunity to experience CradlePoints new COR series at CradlePoints booth #535 at this years Interop in Las Vegas, May 6-10. Additionally, CradlePoint will feature the COR IBR600LE at this years International CTIA Wireless 2012 conference in New Orleans, May 8-10. The CradlePoint COR IBR600LE will be demonstrated in Wyless booth #3357. Wyless is a certified CradlePoint M2M Diamond Partner.
COR was designed to meet the connectivity challenges of the M2M market and the demands of distributed enterprises in verticals ranging from retail, financial services, to healthcare, noted George Mulhern, CEO and Chairman of the Board of CradlePoint. Capitalizing on the speeds of the Verizon 4G LTE network, COR is at the apex of the M2M markets shift away from traditional wired connections to wireless to run mission critical applications. At the same time, CORs dual Ethernet ports allow customers the flexibility to deploy solutions in networks where wired and wireless infrastructures have converged.
The delivery of CradlePoints COR series coincides with the emergence and rise of the M2M market, including retail POS, kiosks, digital signage, surveillance and monitoring. Because of the speed afforded by 4G LTE, enterprises are turning to wireless connections and the cloud to better manage their operational applications and efficiencies and to meet the rising demands of consumers who want to connect mobile devices using WiFi and Ethernet.
CradlePoint is at the forefront in allowing businesses of all sizes to capitalize on Verizons industry leading 4G LTE network, noted Eric Sorensen, Executive Director, Machine-to-Machine Solutions, Verizon Enterprise Solutions. Businesses across various industries will benefit from the ability to introduce high-bandwidth content at the point of customer engagement while streamlining their operations.
The CradlePoint COR IBR600LE allows organizations to insert an active SIM card directly into the built-in modem for wireless connection, and also supports traditional wired data networks for maximum network flexibility. Unlike other routers on the market, the COR series provides multiple Ethernet ports and robust Modem Health Management (MHM) to self-monitor and maximize modem uptime. Large deployments of the COR series can be managed remotely using CradlePoints WiPipe Central management software to monitor, configure, and upgrade geographically-dispersed systems without requiring on-site technical resources.
The CradlePoint COR IBR600LE with embedded 4G/3G provides business-grade performance, reliability and security:
Performance: CradlePoints COR series comes standard with external WiFi antennas and high-gain antennas that optimize throughput and reduce latency, especially in poor reception areas. Users can set alerts to be notified of modem performance and data usage.
Reliability: CradlePoint COR IBR600LE is designed for 24/7 reliability with improved heat dissipation for longevity, enhanced RF (Radio Frequency) engineering for better reception, and employs CradlePoints Modem Health Management features to improve modem stability.
Security: In addition to LAN connections that are protected with advanced WiFi encryption, LAN Segmentation, and vLAN capabilities; the wireless modem is embedded into the router, secure from theft or unauthorized use.
The CradlePoint COR IBR600LE will be available from authorized CradlePoint distributors and resellers in May. To learn more, visit CradlePoint.com/CORLE or contact CradlePoint at + 1.855.813.3385 or email sales(at)cradlepoint(dot)com.
About LTE

Long Term Evolution (LTE) is a mobile broadband standard produced by the 3rd Generation Partnership Project (3GPP), a partnership of several telecommunication standards bodies worldwide. The LTE standard features high data throughput, high spectral efficiency, and low latency, providing users with a high-quality voice, data, and video experience while allowing more users to share the same bandwidth. Visit http://www.3GPP.org for more information about LTE.
About CradlePoint

CradlePoint is the global leader in 3G/4G networking solutions providing business grade, secure connectivity to distributed enterprise, small business and mobile customers. With support for over 350 modems on more than 70 different carriers, CradlePoint defines excellence in connectivity. Specializing in failover, machine-to-machine (M2M), and primary connections, CradlePoints solutions are purpose built for PCI compliant networks. CradlePoint is the first to pioneer and fully enable high-speed LTE in our solutions to maximize the potential of the cloud for businesses worldwide. CradlePoint is a privately held company in Boise, Idaho. Learn more at CradlePoint.com.







Related Embedded System Press Releases