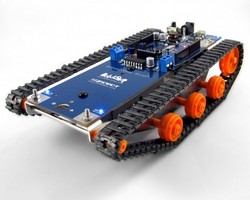 Boisbriand, Quebec (PRWEB) August 4, 2010
RobotShop Distribution Inc. announced today that the new DFRobotShop Rover is in stock and ready to ship. The DFRobotShop Rover was a joint project between DFRobot and RobotShop to create a low cost Arduino-based and shield compatible tracked platform.
The Arduino microcontroller has been around for many years and is exponentially increasing in popularity because of its straightforward design, features, price and ease of use. RobotShop had been selling the Arduino microcontroller for many years, but had not seen a commercial mobile robot that incorporated it into its design. In 2008, RobotShop released the RobotShop Rover, also a tracked platform kit, which included a standard Arduino Duemilanove microcontroller. The DFRobotShop Rover continues this trend by including all the features of a standard Arduino Duemilanove with the parts essential to creating a tracked robot into a minimalist design.
The DFRobotShop Rover combines all the major electrical components used to make a mobile robot onto one PCB and minimizes any additional parts, said Coleman Benson, engineer responsible for the RobotShop Learning Center. The DFRobotShop Rover was designed to be the best fully integrated, Arduino-compatible, mobile platform on the market, at an unbeatable price. The targeted retail price for the launch is less than $ 90 USD for the basic DFRobotShop Rover kit and several other kits based on the design are also available.
In 2009, RobotShop approached DFRobot with a design concept adapting their popular Arduino-based ROMEO microcontroller (also based on the Arduino Duemilanove) into a minimalist tracked platform. The DFRobotShop Rover is intended to be a complete platform for anyone looking to get started in robotics. The suggested age for the DFRobotShop Rover is 14 years and older and is ideal for high schools, colleges and universities, and also makes a great gift.
We are proud to announce that the DFRobotShop Rover, an Arduino-compatible robotic tracked platform is now on the shelf. We've worked very hard on this project for more than 8 months and now it finally hits the ground, said Ricky Ye, president of DFRobot. From this joint project, we gained a lot of experience of cooperation.
About DFRobot
DFRobot(TM) was founded in 2007 in Beijing, China. DFRobot is a professional robot technology developer, especially in open source hardware, mobile robot platform, robot sensors. Their first product was the URM37 ultrasonic sensor which is now becoming a really popular distance sensor in the robotics market. They are now the biggest online robotics shop in China.
For more information, please visit http://www.dfrobot.com
About RobotShop Distribution Inc.
RobotShop is a closely held company and a leader in the distribution of domestic and professional robot technology. It provides domestic and professional robots, development platforms and robot kits and specialized robotic parts. RobotShop is undertaking a broad strategic program aimed at promoting the evolution of robotic processes within our society, leading to the creation of a whole new world of possibilities: Robotics at your service.
For more information, please visit http://www.RobotShop.com
Contact:

Elizabeth Pecharka, External Relations

RobotShop Inc.
###