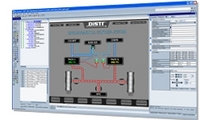 Orlando, FL (PRWEB) January 20, 2010
DiSTI, a global leader in empowering the Human Machine Interface (HMI), has announced the latest release of its award-winning software, GL Studio. Version 4.1 boasts stunning upgrades which will not only increase the users ability to create high fidelity HMI content, but will also reduce the entire production timeline.
Despite being classified as a simple upgrade to GL Studio 4.0, Version 4.1 defies the norm by dramatically increasing fidelity and image quality while still vastly decreasing the necessary time needed to develop any project. Each added feature to GL Studio 4.1 was specifically designed and implemented to ensure that every user saves time and money while ensuring a top of the line product.
GL Studio 4.1 offers a dramatic reduction in the time required to generate interactive 2D panel images from photographs with the original Photoshop file importer. The importer preserves Photoshop layering and ensures a smooth transition of any file from Photoshop to GL Studio.
GL Studio users now have the ability to seamlessly integrate animated schematic diagrams with speed and direction properties into a GL Studio project with the all new Animated Schematics Plug-In. In addition, tracking and analyzing attribute definitions is now available with GL Studio 4.1, due to the User Defined Attribute Dictionary. Finally, creating design interface documents which cohesively combine this Dictionary can be completed through the new Document Generator.
GL Studio was originally released in 2000 as the first toolkit of its kind to apply the power of object-oriented C++ code generation to the challenges of graphical interface application development. A decade later, GL Studio is now the recognized gold standard for the rapid development of high fidelity graphical interfaces. In fact, DiSTI has been recognized as an Industry Innovator the past three years by Military Training & Technology Magazine due to the revolutionizing career of GL Studio.
The continued success of GL Studio can be greatly attributed to our loyal customer base as well as DiSTIs commitment to incorporating their feedback in all of our software improvements, said DiSTIs Chief Technology Officer Darren Humphrey. Thanks to a forward-thinking approach, GL Studio continues to gain praise and third party recommendations.
GL Studio 4.1 is now available for download for customers with active support contracts. For more information about GL Studio or for a free demonstration, visit http://www.disti.com.
About DiSTI
DiSTI is a global leader in the development of Human Machine Interface software for businesses, governments and the military. The companys flagship product, GL Studio, enables programmers and developers to build high-fidelity graphics, 3D simulations and fully interactive controls into their models, enhancing the level of realism and sophistication, while improving learning and retention.
More than 400 customers worldwide, including BAE, Boeing, Dassault, FedEx, Lockheed Martin, Honeywell, Raytheon and Thales use DiSTI solutions to build maintenance trainers, create PC and Internet-based courseware and to develop components for safety-critical applications. As a full service provider, DiSTI offers a complement of customer programming and development services, and is the recognized leader in training solutions for the global simulation and training community. For more information, visit http://www.disti.com.
###