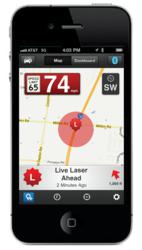 Las Vegas, NV (PRWEB) November 03, 2011
ESCORT Live, ESCORTs ultimate ticket protection network, has received a Popular Mechanics magazine Editors Choice award, given to the top must-have products at SEMA, the premier automotive specialty products trade event in the world.
At Popular Mechanics, we celebrate innovation in every facet of life, said lead automotive editor Larry Webster as he presented the awards at a ceremony at the Venetian hotel here. These are the most useful, the most innovative, and, simply put, the best products of the year.
The entire ESCORT team is honored to receive this important award for ESCORT Live, a revolutionary new product that will unite drivers in a social network for the road, said ESCORT PR Director Ron Gividen, who accepted the award.
ESCORT Live is on display along with ESCORTs other award-winning, premium automotive accessories today through Friday in the Las Vegas Convention Center, North Hall, Booth 11349. In addition, ESCORT will discuss details of ESCORT Live at a press conference at 10:30 a.m. Thursday, in the Media Center at the show.
ESCORT Live is the social network for the road where drivers share live alerts with other drivers so everyone in the network can drive smarter. Now on sale through ESCORT (http://www.escortinc.com/escort-live), ESCORT Live uses Bluetooth technology embedded in SmartCord Live cords and a unique app for the drivers smart phone. When alerts are detected, they are transmitted to the ESCORT Live cloud and then broadcast across the ESCORT Live network, notifying drivers of potential ticket threats. In addition to these live alerts, the system provides ESCORTs industry-leading Defender