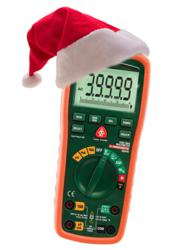 Nashua, NH (PRWEB) December 21, 2011
Extech Instruments, (http://www.extech.com/instruments), makers of the best handheld test and measurement tools, recently donated over $ 40,000 worth of handheld test equipment to vocational, technical and science programs at area high schools. The diverse array of Extech meters and testers was given to four high schools in Eastern Massachusetts.
Arpineh Mullaney, Extech vice president, discussed the donation, We are excited to support the future of our communities technical and scientific work force. Tradespeople help keep our world operating one electrical circuit, one HVAC duct, one circuit board, one industrial motor at at a time. Extech is committed to the fantastic technical training programs available to launch young men and women in high school into in-demand careers.
Mullaney added, Looking ahead, as we see macro trends such as the baby boomer retirement wave, our nation faces an imminent shortage of qualified technicians. We need to continually encourage and support our youth to explore satisfying careers in the technical trades.
Test equipment was donated for use in the following programs: electrical, electronics, HVAC, auto body, automotive technology, plant/facilities management, carpentry, robotics, as well as science and lab programs.
Schools receiving donations included Waltham High School in Waltham, Joseph P. Keefe Technical High School in Framingham, Ashland High School in Ashland, and Diman Regional Vocational High School in Fall River.
About Extech Instruments

Extech Instruments is recognized as the source for the best handheld test and measurement tools worldwide. Founded in 1971, Extech is known for its depth and breadth of innovative testers and meters suited for electrical, HVAC, building/restoration, as well as a host of environmental testers for measurement of sound, light, humidity and other factors. All Extech meters are distributed worldwide through leading representatives, distributors and OEMs. The company is headquartered in Waltham, Massachusetts, USA and is ISO 9001 2008 certified. Extech is a wholly owned subsidiary of FLIR Systems, Inc.
###