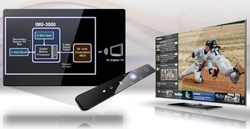 Sunnyvale, Calif. (PRWEB) April 6, 2010
InvenSense, Inc., the leading solution provider for the motion processing market, today announced the IMU-3000 family of inertial measurement units (IMUs). The IMU-3000 has an embedded 3-axis gyroscope and Digital Motion Processor (DMP) hardware accelerator engine with a secondary I2C port that interfaces to third party digital accelerometers to deliver a complete 6-axis sensor fusion output to the primary I2C port. This combines both linear and rotational motion into a single data stream for the application. The device is ideally suited for a wide variety of consumer products requiring a rugged, low-cost motion processing solution for applications in game controllers, remote controls for broadband connected TVs and set top boxes, sports, fitness, medical and other applications. By providing an integrated sensor fusion output, the IMU-3000 offloads the intensive motion processing computation requirements from the host processor, reducing the need for frequent polling of the motion sensor output and enabling use of low cost, low power microcontrollers.
Motion command is becoming a standard interface in the consumer electronics industry. Because of this feature, sales of Nintendos Wii in 2009 grew to account for a 43 percent share of video game consoles shipped in 2009, prompting Sony and Microsoft to introduce motion sensing game play solutions in time for the holiday season this year, according to Pam Tufegdzic, consumer electronics analyst at the market research firm iSuppli Corp., El Segundo, Calif.
While the combination of the 3-axis accelerometer with a 3-axis gyroscope provides much fuller and more accurate recognition of user motion than an accelerometer alone, the task of fusing the signals from both sensors is everything but trivial, said J