After successful crowdfunding by the manufacturer of Arduboy that was subscribed more than 15x times, now we are looking at an upgraded version of the basic Arduboy gaming console. This product, Arduboy FX is built around the ATmega32u4 MCU same as the predecessor coming with 32KB flash memory, 2.5KB RAM, and 1KB EEPROM. When we looked at the upgrade, we noticed that only one addition of Mod Chip to your original Arduboy will make it a more efficient gaming console.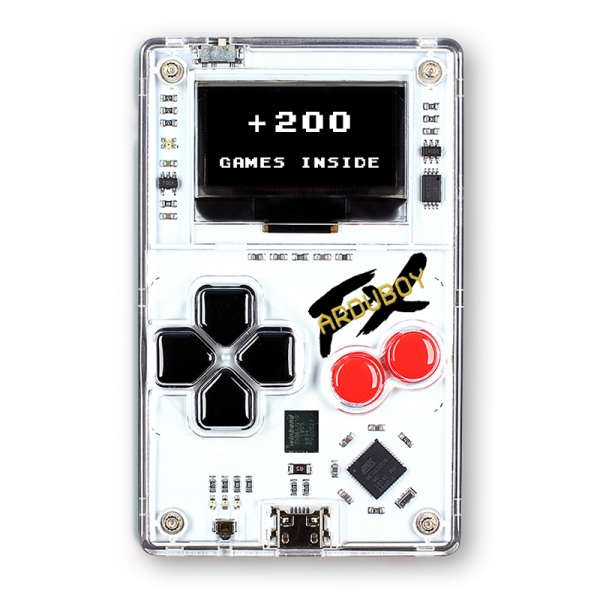 For those who do know about their predecessor Arduboy, then it was a card-sized gaming console provided with a brilliant OLED display, six soft-touch tactile buttons, and two-channel piezo speakers giving a rich experience to all the console lovers. Because of the high demand for the Arduboy, the manufacturers went ahead to upgrade the model to give more capabilities to the open-source gaming community.
Just like the previous model, the gaming console gives you the option to store more than 250 Arduboy games on the retro-tech console. The addition of an extra mod chip gives you the benefit to not use a PC to switch between games. If you are fascinated to play all the games and get the feel of the device before buying one then visit the official page to play games online on the Arduboy FX simulator.
Now, if you already know about Arduboy and own one. You do not have to buy a new one to get all the functionalities. Assuming you like to tinker with electronic devices, then you just need to play with the components for hardly 15 minutes to complete the upgrade. As mentioned earlier, you just need to pre-order a Modchip that will cost $9 for only hardware and $15 for preloaded games on the chip.
Read more: ITS TIME TO UPGRADE TO ARDUBOY FX RETROTECH GAMING CONSOLE