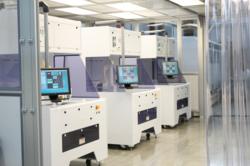 Albany, Oregon (PRWEB) April 26, 2012
MEI LLC, a leading provider of semiconductor wet benches, services and equipment, received a Supplier Excellence Award for 2011, a distinction given by Analog Devices Inc. (ADI). MEI LLC has been selected as winner in the category of Special Achievement. MEI has attained this recognition nine consecutive years.
MEI has been a continuous supplier to Analog Devices for over a decade. This successful relationship has been driven by MEIs cutting edge Wet Processing and Chemical Delivery equipment, reliable service, quality response to Analogs business needs, and commitment to equipment and service solutions.
Receiving a Global Supplier Excellence Award from Analog is an honor particularly given the breadth of products and services we supply to this important customer, Said Dan Cappello, CEO of MEI LLC. Our relationship with Analog Devices continues to evolve as their needs shift and expand. MEIs capabilities are broad and deep. Our challenge is to constantly anticipate our customers needs given that the semiconductor manufacturing landscape is constantly changing.
The Analog Devices Supplier Excellence Award recognizes companies that have delivered outstanding performance in manufacturing and supplying products or services while maintaining quality standards and reliability specifications, advancing technology, and making continuous improvements.
About MEI LLC
MEI is a diversified manufacturing and service company serving the semiconductor MEMs, solar and high technology industries. The companys specialties include automated and semi-automated wet process systems and services; chemical delivery systems, control automation software; industrial and process equipment moving, rigging and crating services; clean room safety, ergonomic and support equipment. MEI has built its reputation upon a commitment to outstanding customer service since 1990. For more information about MEI, visit http://www.meillc.com.
Editorial contact, Dan Cappello, MEI LLC.