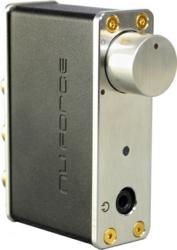 Milpitas, CA (PRWEB) October 31, 2011
Bypassing the computers generally inferior soundcard, the uDAC-2SEs high-performance 24bit/96kHz USB Digital Audio Converter elevates a computer's digital music into high-quality analog sound for headphones and stereo systems. In the Asynchronous USB transfer mode, the downstream audio device controls the digital audio data the computer sends through its USB interface. The result is less jitter and better sound. The uDAC-2 SE also features an Up-Sampling capability. With their attractive stainless steel panels, the uDAC-2SE and uDAC-2SGE stand as two of the most compact high-performance USB DACs on the market today.
Note: The uDAC-2 Signature Gold Editions customers are qualified to receive a free upgrade to Asynchronous USB design. uDAC-2 customers can upgrade to uDAC-2SE for $ 140 by purchasing an upgrade kit which contains uDAC-2SE circuit board and stainless steel front and back panels.
Pricing and Availability:
The suggested retail price of the Icon uDAC-2 SE is $ 249, available in black or red color.
About NuForce:
NuForce has long believed that consumer electronics neednt sacrifice quality in order to achieve affordability. Fired by a passion to produce audiophile-grade products that look as good as they sound, NuForces principals launched their dream in 2005. Based in Milpitas, California, the company swiftly achieved prominence with its patented, award-winning Class-D power amplifiers. Building upon a glowing reputation for state-of-the-art audio products, NuForce has worked diligently to include in its ever-growing product line digital-to-analog converters, in-ear and over-the-ear headphones, speakers, subwoofers, cables, additional home and headphone amplifiers, along with other audio accessories.
Committed to the most stringent of quality standards, domestically and world-wide, NuForce stands squarely behind every product it produces.
Media Contacts:
Jessica Darrican

Max Borges Agency

305-576-1171 x.16

305-299-3449

JessicaDarrican(at)maxborgesagency(dot)com
Anna Zhao

NuForce, Inc

Phone: +1-408-890-6840
###