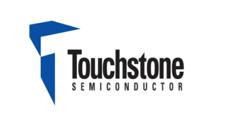 Milpitas, CA (PRWEB) October 31, 2011
Touchstone Semiconductor, a developer of high-performance analog integrated circuit solutions, today announced the immediate availability of two new drop-in replacements in its Maxim alternate-source family, bringing the total number to nine analog ICs. These new voltage reference analog ICs are pin-compatible, specification-identical and functionally identical to Maxim Integrated Products MAX6025A/B.
Touchstones nine alternate-source parts can be used in conjunction with Maxim products to ensure a constant supply of product so companies can meet product shipping deadlines. All Touchstone alternate-source Maxim ICs are in stock and available to ship immediately.
Touchstones two new analog products include the TSM6025A and TSM6025B, low-power, single-supply, precision +2.5-V voltage reference ICs that can be used for the MAX6025A/B.
The TSM6025A/B are series-mode voltage reference ICs. The TSM6025A/B consume only 27A of supply current at no-load, and exhibit an initial output voltage accuracy of less than 0.2% and a low output voltage temperature coefficient of 15ppm/