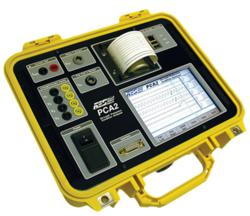 (PRWEB) November 03, 2011
RES, a trusted provider of testing equipment since 1981, has chosen Davis Instruments as its exclusive distributor in the United States. RES offered the first computerized relay test set twenty years ago. The company continues to specialize in developing the latest in test equipment for power systems protection.
To keep high-voltage circuits, generators, and transformers operating well, every element of the system needs to be tested consistently. Because these systems power electricity networks, substations, manufacturing plants, and railways, their effective functioning is critical.
Through Davis Instruments, RES provides leading technologies for testing power system protection relays, transducers, energy meters, and battery installations. The RES On-Load Protection Condition Analyzer (PCA2) is a complete substation protection evaluation and recording systemfunctionality not found anywhere else. It simultaneously tests system components including the relays, breakers, tripping supply, wiring, and more to capture miscues.
Find out more about this product and many other RES products by calling 800-358-5525 or visiting http://www.davis.com/18822.
Davis Instruments has been one of the worlds leading sources of test, measurement, control, and calibration instruments since 1912. With expanding capabilities in industrial spheres such as power and utilities, petrochemicals, aerospace and electronics production, field services, and construction, the organization continues to respond to technological demands. Based in Vernon Hills, Illinois, Davis Instruments is dedicated to providing customers with excellent service and product applications expertise. For more information, contact Davis Instruments, 625 East Bunker Court, Vernon Hills, IL 60061. In the US or Canada, call 800-358-5525. International customers, call 847-327-2000. Visit us at http://www.davis.com.
###







Related Electronic Circuits Press Releases