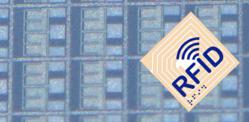 Santa Clara, CA (PRWEB) May 24, 2012
OnChip Devices, a world leader in Integrated Passive Devices (IPD), has introduced a dual thin-film capacitor that is designed for Radio Frequency Identification (RFID) applications requiring both a tuning and a detuning capacitance in a single chip. OnChip's DTCA chip features topside wire bonding pads to support either Chip-on-Board (COB) or Direct Chip Attachment (DCA) manufacturing flows. The chip uses a unique LPCVD (Low-Pressure Chemical Vapor Deposition) Silicon Nitride as the capacitor dielectric. This dielectric material offers high stability and Q values, exhibits low temperature and voltage coefficients, and achieves capacitance values in the range of 45pF to 165pF.
By connecting the internal capacitors either individually, in series, or in parallel, the resonant frequency of the LC antenna circuit may easily be varied. As an example, if each capacitor value on the chip is 68pF, when these 2 caps are connected in series, the value will be 34pF and when connect in parallel, the value will be 136pF. The capacitance network is well suited for 13.56MHz ISO 15693 smart card applications, ISO 18000-3 RFID item management tags, and other applications that require precision, high frequency operation, and an ultra-thin profile. Intended to save space while providing superior electrical performance, OnChip's DTCA dual capacitor chip is only 950um x 950um (37mils x 37mils or 0.95mm x 0.95mm) in size and is available as thin as 100um (4mils, 0.004″, or 0.1mm). The wire bondable top pad typically consists of aluminum, while the optional back metal is gold.
"Compared to conventional RF capacitors, OnChip's DTCA capacitor offers extremely stable capacitance over a wide range of frequencies from 1MHz to several GHz. Additionally, their semiconductor construction provides an ultra-high Self-Resonant Frequency (SRF) and exceptionally low Equivalent Series Resistance (ESR)" said Ashok Chalaka, President and CEO. "Unlike Multi-layer Ceramic Capacitors (MLCC), DTCA offers an extremely repeatable frequency response due to the fact that the devices use a single-layer dielectric." Typical applications for the dual capacitor chip include RFID resonance circuits and Chip-on-Board designs.
Availability and Pricing
The DTCA chip is available immediately worldwide at a price range of $ 0.07 to $ 0.15 USD (depending on capacitance value/tolerance and the chip thickness) in quantities of 10,000 units. Products are shipped in wafer-form (diced or undiced) and in waffle packs. These components are designed and developed at OnChip Devices' Santa Clara facility and are produced to the highest quality standards.
About OnChip Devices
OnChip Devices is headquartered in Santa Clara, CA and is a global leader in Integrated Passive Devices. With it's own silicon fabrication facility and strong partnerships with full turn-keys assembly and test houses in Asia, OnChip is offering state-of-the-art silicon and ceramic solutions for High-brightness LED, Computing, and Consumer Electronics.

More Electronic Circuits Press Releases