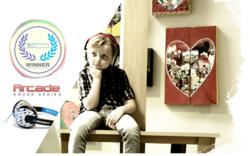 (PRWEB) March 08, 2012
AERIAL7 is excited to announce that the Arcade Childrens Headphone has been awarded the PTPA Winners Seal of Approval. PTPA Media has North Americas largest volunteer parent testing community, with over 40,000 parents and was rated the Most Trusted Seal by 22,000 parents.
Consumers looking for high-quality products and services can rest assured when they see the PTPA Winners Seal; its evidence of a products excellence from having been evaluated by unbiased parent testers.
The AERIAL7 Arcade Childrens Headphone was among many entries from across North America competing to earn the PTPA Seal. Independent parent volunteers evaluate products in their own homes to ensure that PTPA winners are chosen based on merit and consumer experience not on commercial considerations. As a result, the PTPA Media Seal has quickly gained recognition as an international leader in certifying consumer products for quality, effectiveness and value.
AERIAL7 has developed a headphone specifically engineered for childrens use. The ARCADE is the first headphone to feature AERIAL7 Automatic Volume Reduction technology (AVR). With this technology, the maximum volume or sound pressure is limited to the OSHA standard for childrens ears of 85db. If the volume is accidentally turned up too loud, these headphones automatically turn it down to a safe listening level. The AVR does not cause any distortion and the on the ear design of the ARCADE helps block outside noise in order to enhance kids listening experience.
Kids are sure to get excited about all the stylish designs and finally having a pair of headphones made to fit their head. The ultra plush ear pads and adjustable headband allow for comfortable listening all day long. The ARCADE is made with durable materials to withstand a kids adventurous lifestyle. Both kids and parents agree, the ARCADE rocks.
About AERIAL7:

AERIAL7 was created in 2008 by three friends from different backgrounds who share a common vision for building unique audio products influenced by their passion for art, music, street culture, fashion and the active lifestyle that they live and breathe.
Since AERIAL7 began, the team has strived to be at the forefront of merging fashion and technology, introducing unique materials, finishes, original wearing styles and impressive acoustics that redefines the headphone as a fashion accessory.
Working with the constant feedback of AERIAL7s team of ambassadors from around the world, AERIAL7 products are constantly evolving, influencing and challenging the headphone market.
AERIAL7 has quickly become a fast growing music lifestyle company with business headquarters in Los Angeles, a design center in Australia and distributors in over 60 countries.
About PTPA Media Inc.

PTPA Media provides an objective framework for appraising and promoting new products designed to enrich family living. The company's mission is to marry innovative companies with discerning consumers, to improve consumer access to quality products and services for their families and homes.