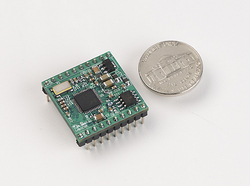 San Jose, CA (PRWEB) July 22, 2010
Radicom Research, Inc., a leading designer and manufacturer of dial-up and wireless modems for Embedded Applications, today announced the immediate availability of its LSHM-200 Serial-to-Ethernet Modules for Embedded System Applications. The new module represents a breakthrough in both thermal capacity and size, all at a price point suitable for todays challenging economic environment.
We feel that the LSHM-200 sets a new standard for the Serial-to-Ethernet device server industry, says Alex Tsau, VP of Operations at Radicom. Not only are we pushing new thermal limits, we have an industry-leading footprint, and a strong value price point. It offers the ultimate in flexibility.
Measuring only 1 (W) x 1 (D) x 0.25 (H), the LSHM-200 connects serial devices to IP networks with a 10/100BaseT interface. It provides an easy and affordable solution for connecting microcontroller-based systems with serial ports to IP networks for remote control and monitoring applications.
Many serial-to-ethernet modules come at 2.5 depth — more than twice the LSHM-200s depth. The LSHM-200 also brings a wider thermal range, including sub-zero (Celsius) temperatures, says Tsau. These specifications offer high durability for extreme applications such as remote monitoring.
Capable of operating between temperatures of -40