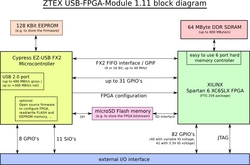 (PRWEB) July 30, 2010
ZTEX (see http://www.ztex.de), a leading producer of FPGA boards with USB 2.0 interfaces, announces the availability of the Spartan 6 based USB-FPGA-Module 1.11 (see http://www.ztex.de/usb-fpga-1/usb-fpga-1.11.e.html) with 64 MByte onboard DDR SDRAM. The price for modules with Xilinx Spartan 6 FPGA XC6SLX16 is 109 EUR (approx. 139 USD). Variants with XC6SLX9 and XC6SLX25 are planned for autumn 2010.
ZTEX modules are mainly intended for prototyping and small series products. In combination with various extension boards they can be used as development / evaluation platform.
The main features of the Spartan 6 USB-FPGA-Module 1.11 are: