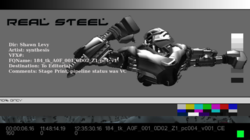 Burbank, CA (PRWEB) October 18, 2011
The robot boxing adventure "Real Steel" earned over 100 million dollars worldwide in its opening week, and Concept Overdrive is proud to announce its significant role in the creation of many of the the films special effects.
"We were approached by 'Real Steel' visual effects supervisors in late 2009 because we had developed real time motion systems used on 'Avatar'." said Concept Overdrive president Steve Rosenbluth. "The robot boxing of Real Steel required integrating streams of motion, and our technology fit the Virtual Production paradigm well.
Simul-cam, the process of combining computer graphics robots with real world actors and sets, gave the director and the the cinematographer the experience of shooting the whole scene live. The process allowed the robot shots to be framed in-the-moment with the actors, and facilitated artistic decision-making. Concept Overdrive collaborated with partners Video Hawks and Giant Studios to provide the Simul-cam system on-set, where camera lens metadata and camera motion was streamed and stored by Overdrive systems.
As on-set robot footage accrued, editorial renders and 'Turnover' packages for the Visual Effects house were needed. Concept Overdrive's Synthesis automation system churned through hundreds of robot shots and assembled scenes which were rendered in game-resolution for the Editorial department. This involved the automated combination of digital assets like robot animation, image-based motion capture footage, Simul-cam metadata and on-set take-management data. Post-production was made more efficient, and less expensive, by utilizing this system.
A new graphical take-management tool called Upstage was developed on Real Steel to capture stage activity, from Action, Cut, and Print events to stage notes and camera metadata. The information entered into Upstage was databased for the Synthesis render process which the Editorial department relied upon.
A Virtual Camera was used prominently on Real Steel to shoot the all-CGI robot boxing shots. The camera device contains Concept Overdrive microcontroller hardware which handles analog and digital inputs. That data is sent through an Overdrive computer to be both captured and streamed into the 3D computer graphics world. Virtual Camera devices were a collaboration between Concept Overdrive and Technoprops Inc, and were an essential part of a filmmaking process where some of the main characters exist only in computers.
The film's real-world hydraulic robots were created by Legacy Effects, who utilized an Overdrive system to perform animatronic robots like Noisy Boy, Ambush, and Atom which seamlessly matched their computer graphics versions.
In total, four Overdrive motion management systems were used during production, and a Synthesis pipeline system was deployed as 10 on-set computers. The majority of the film's robot shots flowed through Concept Overdrive systems and protocols. Being a deterministic hard real time system, the Overdrives were the only computers on set that could gen-lock to camera shutter and time code, so they were very valuable. Rosenbluth says, In the old Ford factory where 'Crash Palace' was set, it was really satisfying to walk from the Simul-cam area to the hydraulic robot area and find another crew using our technology, unassisted.
The technologies deployed on Real Steel saved a lot of labor and made the virtual production run like a live-action shoot. Industry experts are now recognizing that the technology ensemble used on Real Steel saves productions money while giving the film-makers the tools and workflow with which they are familiar – such that shooting boxing robots is like making a live action movie.
Concept Overdrive released version 2.1 of Synthesis and version 2.6 of Overdrive in the fourth quarter of 2011.
###





More Microcontroller Press Releases