AMD has announced their new Ryzen Embedded V2000 processors with 7nm fabricated Zen 2 cores. They have designed four new processors for embedded devices. Ryzen Embedded V2000 doubles the multi-threaded performance-per-watt and offers up to 30 percent better single-thread CPU performance compared to the previous-gen V1000. Also, the graphics performance is expected to have a 40 percent boost.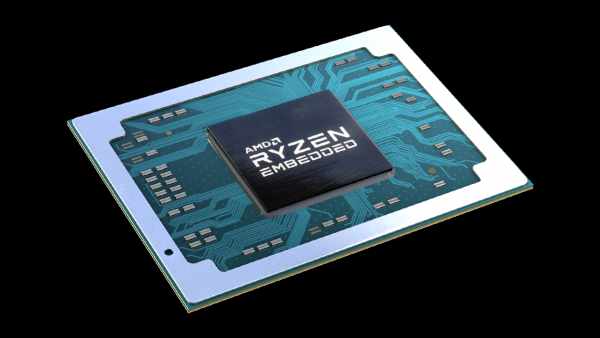 The Ryzen Embedded V2000 offers the low-end Hexa-core V2516 and octa-core V2718 processors with 10-25W TDPs. On the high-end, there is a hexacore V2546 and the octa-core V2748 with 35-54W TDPs. The processors are generally dual-threaded. So the octa-core models have 16 threads and the hexacore ones have 12 threads. The top tier V2748 offering a whopping 2.9GHz base and 4.25GHz boost rates while maintaining a 35-54W TDP.
The 6x AMD Radeon™ Graphics cores are clocked at 1.5GHz for V2546 and V2516 and there are 7x cores of V2718 and V2748 that come with 1.6GHz graphics clock speed. The V2000 SocCs can drive up to 4x independent displays at 4KP60 with the help of up to 4x HDMI 2.1 (HDMI 6G) or 4x DP 1.4. They also support V2000 4K encoding.
On the I/O support for these new SoCs that, there are 20x PCIe Gen3 lanes, HDMI 2.1, DP 1.4, and USB 3.1 Gen2. All of these SoCs support up to Dual Channel 3200MHz DDR4, including ECC RAM. Initial launch partners include Advantech (Mini-ITX and COM Express), ASRock Industrial (mini-PCs), and Sapphire (4×4 and 5×5 boards), and an updated Simply NUC mini-PC. Ibase will also power some of its products with V2000 SoCs. The V2000 series has a 0 to 105°C operating range.
Read more: RYZEN EMBEDDED V2000 WITH AMD RADEON™ PROMISES DOUBLE PERFORMANCE