Stepper motor can be termed as digital motor because it operates on pulses. Unlike AC or DC motor that rotates continuously, stepper motor rotates in steps. It rotates in number of steps as per applied number of pulses. Stepper motor is used in many applications like:


. Robotic application – to move robotic arm to specific position, to move robo-vehicle in specific direction at specific angle
· Disk drive application (CD drive, HDD) – to position reading head at specific position· Defence application – to fire a shell or to launch missile at perfect angle
· Domestic application – to open or close window shutter / curtain / blinds etc
· Communication application – to lock the position of satellite dish antenna at specific angle

There are different types of stepper motors permanent magnet, variable reluctance, unipolar, bipolar etc. In this project I have used unipolar type stepper motor with following ratings
·  Max rated voltage: –    5 V
·  Max rated current per coil: – 0.5 Amp
·  Step resolution: –    1.8 degree / pulse
·  Max RPM: –    60In this project I am varying speed and altering rotating direction of motor. But to vary the speed or to alter the direction of motor one has to first understand how unipolar stepper motor rotates. So first let us understand how to rotate unipolar stepper motor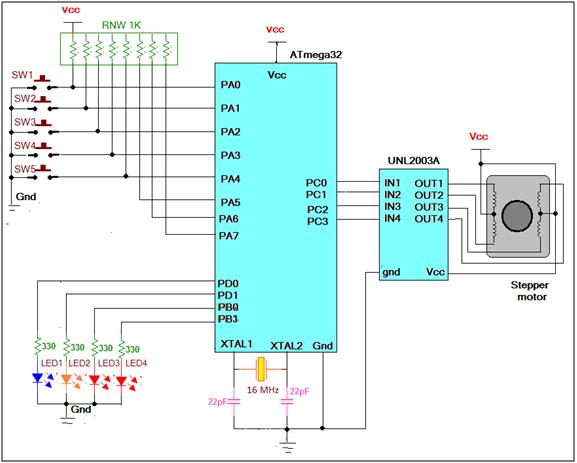 In unipolar stepper motor there are four coils. There can be six terminals or five terminals. In six terminals stepper motor one end of two coils is shorted and taken out as common terminal. similarly for other two coils. These two common terminals are always connected to +Ve / -Ve terminal of supply. The remaining four terminals of each coil are used to rotate motor. In five terminals stepper motor one end of all four coils are shorted and taken out as single common terminal that is to be connected to +Ve / -Ve terminal.Now to rotate motor (clockwise or anticlockwise) pulses has to be applied to these four coil terminals in following sequence.
Step

clockwise

anticlockwise

Coil4

Coil3

Coil2

Coil1

Coil 4

Coil3

Coil2

Coil 1

Step1

1

1

Step2

1

1

Step3

1

1

Step4

1

1
Note – in the above sequence '1' indicate the coils are given +Ve supply. The common terminal is connected to –Ve (Gnd) terminal.So as we apply this four steps sequence continuously, the motor will rotate clockwise or anticlockwise.

For more detail: Speed and Direction Control of Stepper Motor using AVR Microcontroller