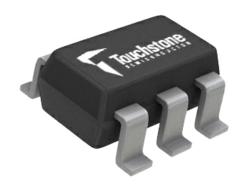 Milpitas, CA (PRWEB) November 30, 2011
Touchstone Semiconductor, a developer of high-performance analog integrated circuit solutions, today announced the expansion of its Maxim alternate-source family to 15 products with the addition of six new current-sense amplifiers. Touchstone now offers eight current-sense amplifiers as part of its Maxim alternate-source family.
The new current-sense amplifiers include the TSM9938H, TSM9938T and TSM9938W and the TSM9634H, TSM9634T and TSM9634W. They are pin-compatible, specification-identical and functionally identical to Maxim Integrated Products MAX9938H, MAX9938T and MAX9938W and the MAX9634H, MAX9634T and MAX9634W. They join the TSM9938F and TSM9634F to form a complete product family. All versions of the TSM9938 and TSM9634 current-sense amplifiers are in stock and available to ship immediately.
Touchstone now offers 15 analog ICs as part of its Maxim alternate-source product family. Touchstones alternate-source parts can be used in conjunction with Maxims products to ensure a constant supply of product so companies can build products and meet shipping deadlines.
Touchstones new analog product families offer the following features: