The circuit presented here demonstrates how to generate Audible Frequency from an AVR Microcontroller. The output of Microcontroller is always digital so to generate audible sound at the outset first it needs to be converted into Analog. A DAC (Digital to Analog Converter) is used for this purpose. Microcontroller generates sine wave of Audible Frequency using DAC. This sine wave is further given to Audio Amplifier that drives speaker. Microcontroller generates sine wave of fix frequency continuously. So we can hear an audible tone of fix frequency.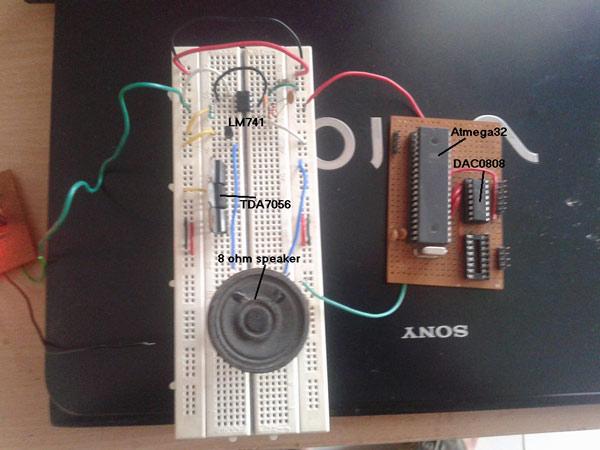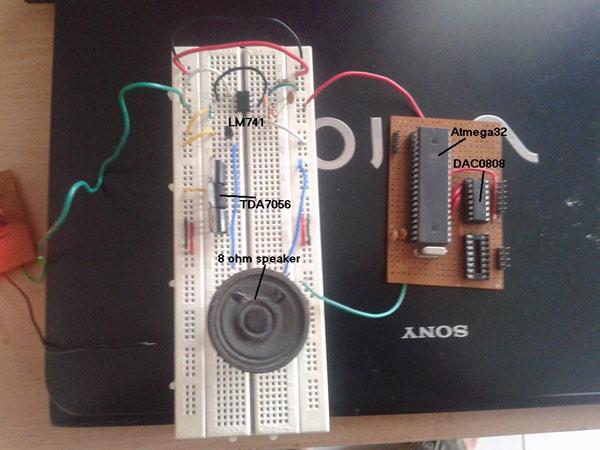 The photograph given below shows the circuit is built on general purpose PCB and bread board.
As shown in figure the major building blocks are AVR Microcontroller ATMega32, 8-bit DAC DAC0808, OP-AMP LM741 and Audio Amplifier TDA7056
AVR Microcontroller
AVR Microcontroller gives Digital values to DAC to generate sine wave output through it.
DAC0808
It converts digital values given by ATMega32 into Analog and generates continuous type sine wave
OP-AMP LM741
DAC0808 gives output in form of current. OP-AMP works as I to V converter and converts it in to voltage
Audio Amplifier
Audio Amplifier amplifies the signal given by OP-AMP so that it can drive speaker and generates sound output of around 1W to 3W
For more detail: Audio Tone Generator using AVR Microcontroller
This free embedded project also found using:
op-amp sound generator
Sound processor atmega
audio microcontroller projects
audio output atmega32
dial tone generator schema
free project avr about sound