How Nintendo DS Works
ere's a question: What happens when one of the world's largest electronics companies makes a move to edge its competition out of the top spot in the portable gaming industry? If you're Nintendo, and Sony has made it clear that it wants to crush you with its new PlayStation Portable, you throw a curve ball and try to beat Sony with what you do best: innovation.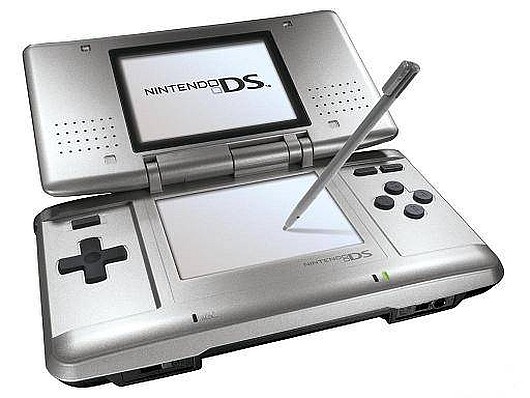 Nintendo's latest innovation is not a bigger, faster processor. Nintendo's latest foray into the handheld market, a market it practically owns thanks to the legendary Game Boy — is the DS. "DS" stands for either "dual screen" or "developers' system," depending on which way the wind's blowing, and it's a cross between two Game Boys and a PDA, with a cell phone's messaging function thrown in for good measure. And the DS's new sidekick, DS Lite, has all the handheld glory of the DS plus brighter screens and a smaller, lighter, easier-to-pocket package.
So what's the big deal with the little DS? On the surface, it's just a larger, two-screened Game Boy. However, with its laundry list of handheld firsts, a multitude of possibilities are now open to game
DS Features:
Two 3-inch, LCD screens capable of 3-D renderings
Touch capabilities, using a stylus or a finger, on the bottom screen
Microphone port
Two kinds of wireless connectivity, IEEE 802.11 and a protocol proprietary to Nintendo
In the next section, we'll take a look at each of these features.
DS Features
In creating the DS, Nintendo was aiming for a vehicle that allowed developers to do some exciting things never before seen in video gaming, let alone handheld gaming. Enter the two screens. Demos for the DS showed how some of those developers chose to navigate the new territory. Some games gave two completely different perspectives on the on-screen action, while others used the second screen to display gaming peripherals like maps, menus and object inventories.
What Nintendo hopes is the most innovative aspect about the two screens, though, is that they allow for an entirely new input system in video gaming. For all of its dazzling innovations, video games are essentially still controlled by pushing (and pushing and pushing) buttons. With the DS touch screen, there is an entirely new world of controls that are now possible for gamers. At E3, some of the most lauded demos for the DS allowed gamers the ability to draw their way through a game, control characters through touch or use the stylus to "carve" objects onscreen to create digital sculpture.
And it's not strictly for gaming. Also on deck are applications that allow players to write messages, utilize an onscreen keyboard and send and receive text messages during game play.
Microphone
In addition to the touch screen, the DS also allows for voice or sound input into the game. Yes, that's right: New video games could not only interpret button pushing and screen tracing, but also claps, shouts or screams. Developers can create games where players would control characters through voice recognition, but that's not all. The microphone also allows gamers to chat wirelessly with each other, a feature popularized by programs like Xbox Live.
Wireless
The DS also features wireless technology for connecting gamers to one another and the Internet. Many thought that Nintendo would install Bluetooth technology in the DS, but it opted for the stronger and wider range of IEEE 802.11.
Nintendo also looked to Xbox Live and its mega hit "Halo" for inspiration in allowing the DS to connect gamers to one another. Up to 16 people can play each other on the DS, and with a wireless LAN connection, that number could increase indefinitely. Add in the possibility of multiple players engaging in game sharing (using only one cartridge to allow many people to play the game), and you can see why some people in the video game industry are very excited about the handheld with two heads.
Tech Specs
Prior to release, Nintendo was extremely tight-lipped about the exact specifications of the DS for fear that a competitor might try and beat it to the market. Now that it's out, the company lists these specs:
Size (closed): DS – 5.85″ wide / 3.33″ long / 1.13″ tall; DS Lite – 5.24″ wide / 2.91″ long / 0.85″ tall
Weight: DS – 275 grams; DS Lite – 218 grams
Upper Screen: Backlit, 3-inch, semitransparent reflective TFT color LCD with 256×192 pixel resolution and .24 mm dot pitch
Touch Screen: Same as upper screen, but with transparant analog touch screen
Brightness: DS – two settings; DS Lite – four settings
Color: Capable of displaying 260,000 colors
Wireless Communication: IEEE 802.11 and Nintendo's proprietary format; wireless range is 30 to 100 feet, depending on circumstances; multiple users can play multiplayer games using just one DS game card
Controls: Touch screen, embedded microphone for voice recognition, A/B/X/Y face buttons, plus control pad, L/R shoulder buttons, Start and Select buttons
Input/Output: Ports for both Nintendo DS game cards and Game Boy Advance Game Paks, terminals for stereo headphones and microphone
Other Features: Embedded PictoChat software that allows up to 16 users to chat at once; embedded real-time clock; date, time and alarm; touch-screen calibration
CPUs: One ARM9 and one ARM7
Sound: Stereo speakers providing virtual surround sound, depending on the software
Battery: Lithium ion battery delivering six to 10 hours of play on a four-hour charge, depending on use; power-saving sleep mode; AC adapter
Languages: English, Japanese, Spanish, French, German, Italian
Color: DS – Silver and black; DS Lite – White
Source: Nintendo
For more Detail: How Nintendo DS Works

Project Ratings:
Related posts
Leave a Comment
You must be logged in to post a comment.