Scalar Network Analyser
I have (finally) got round to building my own instance of DuWayne, KV4QB's prize-winning Scalar Network Analyser Jr:
and a great little instrument it is too!
DuWayne and I have been corresponding for a couple of years, sharing mutual interests. I was pleased to be able to give his work a shout in both the printed and  'spoken' version of my talk at this year's Four Days in May event in Dayton and – more importantly – to catch up with the man in person for a quick eyeball QSO. I also got a PCB for SNA Jr, which has been sitting on the bench for months – until last week.
The SNA board finally bubbled up to the top of the pile and I looked around for the bits I needed to complete it. Perhaps I should explain (to those of you who don't know) what's involved…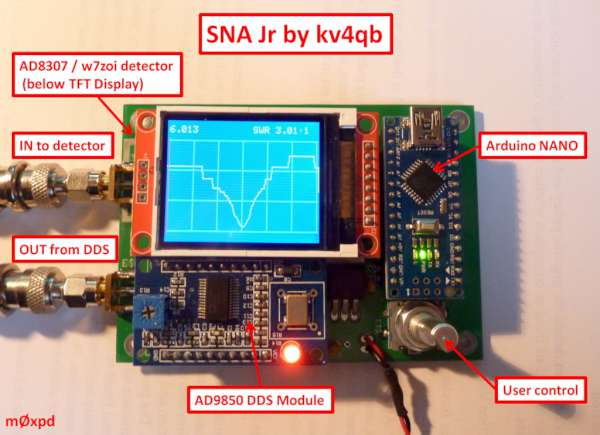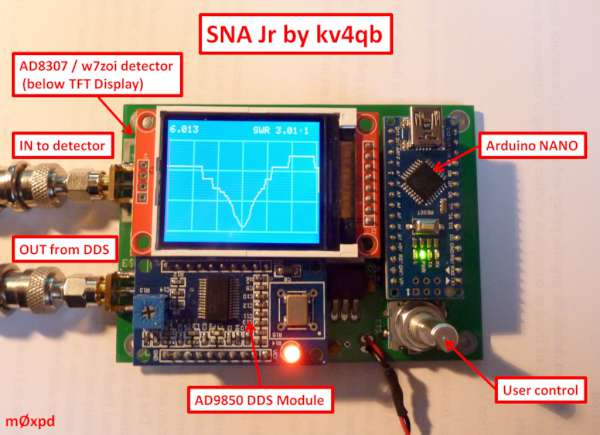 DuWayne's baby uses an AD9850 in one of our familiar modules to generate RF, under the control of an Arduino NANO. You can read on DuWayne's blog how the SNA Jr is the descendant of earlier experiments in which an Si5351 was used as the signal source.
In the SNA Jr, the output from the DDS is fed to the device under test and the returned signal is observed in a detector system. DuWayne has 'history' in using simple diode detectors in this role (and I was praising kv4qb for this minimalist approach in my talk at Dayton) – again, you can read about this lineage. However, the SNA Jr now replaces the earlier simple diode detector with a fancy AD8307 detector, in the well-known Wes Hayward, w7zoi, circuit. This gives superior performance in terms of dynamic range and 'linearity'. Also, with the availability of cheap AD8307s (of dubious parentage) from China, this option is also becoming attractive for cheapskates like me! [I have some Chinese AD8307s on order and will report back on performance when the slow boat docks.]
You can't see the detector in the photo above, because it lurks under the screen – so here's another shot (with apologies for my wayward handling of some of the SMT devices):
For more detail: Scalar Network Analyser

Project Ratings:
Related posts
Leave a Comment
You must be logged in to post a comment.