Superb DIY Retro Lighting Design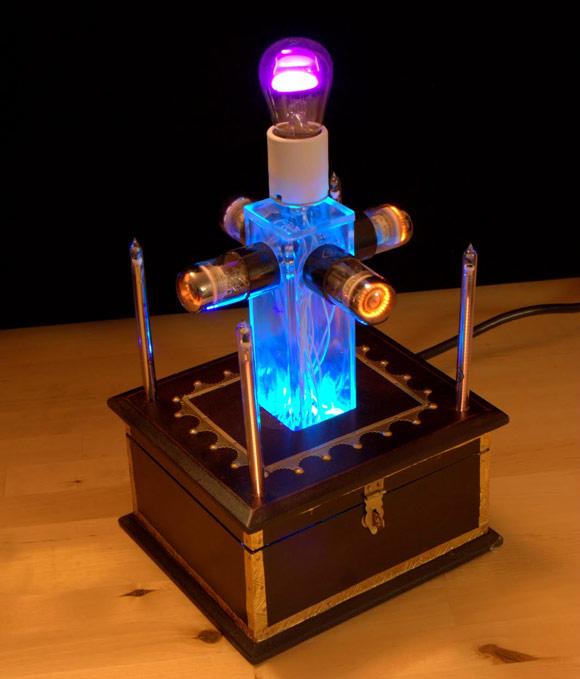 What is it?

It is a decorative lamp; a very, very impractical decorative lamp employing a few vintage display devices and a couple of LEDs too. A friend of mine was one of a group of artists who produced Ascension (the giant origami-crane tent) at the 2010 Coachella Music and Arts Festival. Since he was responsible for the solar power array and system, he asked to borrow a little dekatron spinner of mine to include as a little accent on his gear. The festival was only a week away, but I told him I could throw together something cooler than that! A busy weekend in the shop, along with a few late nights of tinkering and wiring, and I produced this interesting, but wildly fragile sculpture.
Although it currently does have some "animated" features, it is completely uninteractive. At some point in the future I hope to add interactive features, like pulsing the green/blue light faster or slower depending on how far away a person is from the lamp. It would also lend itself well to reacting based on sound, either through a direct audio signal, or through the inclusion of an onboard microphone.
The case is a junky jewelry box I bought from Big Lots for a few bucks.  It is maybe a bit too Steampunk for me, but the generic antique look suits the tubes quite nicely all the same.  I decided to use all white wire for hookups through the clear acrylic tube.  It definately looks better because of that, but even labeling the wires, it was sort of a pain.  Unfortunately I didn't have enough clearance inside the acrylic tube and wasn't able to use sockets for the dekatrons.  Instead, I directly glued them onto the acrylic tube and soldered the leads directly to the pins on the dekatrons.  Pretty amateurish, but I pretend it's ok because I only had about a week to do the project…
How does it work?

Well, it is very much a hodgepodge of display devices, mostly vintage. The whole things plugs into a standard 120VAC wall using a an extension cord I cut up. All the wall power runs through a 250mA slow-blow fuse (safety first!) and then through a simple toggle switch to turn it on and off. Once the AC power is brought into the box, it supplies the GE AR-1, the dekatron spinner circuit, the AC input of the YS-610, and a wall-wart for providing low-level DC. All that works to power the following display devices:
A vintage General Electric AR-1 argon glow discharge lamp. These were old UV lights included in home "science kits" that involved fluorescence. The kit would typically include one of these bulbs, and an assortment of mineral samples to examine under the UV. This lamps simply runs off of 120VAC wall power, nothing fancy…
For more Detail: Superb DIY Retro Lighting Design

Project Ratings:
Related posts
Leave a Comment
You must be logged in to post a comment.