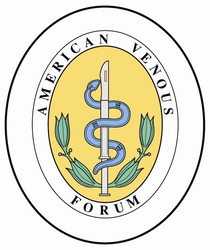 Beverly, MA (PRWEB) February 8, 2011
The American Venous Forum (AVF) is set to launch the American Venous Registry (AVR), the first-ever society-sponsored on-line registry, at its 23rd Annual Meeting, which begins on February 23, 2011, in San Diego. By identifying practice patterns for venous disease diagnosis and treatment across the U.S. and across varied specialties, the Registry will facilitate the assessment of functional outcomes and comparative analyses of different clinical approaches to venous disease management. This will make it a powerful tool for the development of treatment guidelines, evidence-based modification of public policy and re-direction of health care resources.
The American Venous Registry standardizes, for the first time, the collaborative collection and analysis of clinical information on venous disease, allowing both physicians and industry to draw valid conclusions regarding treatment efficacy, said Brajesh K. Lal, MD, Chairman of the Steering Committee for the AVR, Associate Professor and Chief of Vascular Surgery, Physiology & Bioengineering, University of Maryland, Baltimore. In addition, the Registry is designed to serve as a real-time clinical practice tool for participating physicians, resulting in enhanced care for patients with a various forms of venous disease.
The founding sponsor of the AVR is W.L. Gore & Associates.
Vein Disease
Despite the medical advances of the past two decades, venous disease remains understudied and is severely underestimated for its effects on public health. According to the AVF, there are 25 million people in the U.S. who suffer from venous disease, with chronic venous diseases affecting more than 20 percent of the adult population. Still, the care for this disease category not standardized.
Despite venous disease affecting such a large segment of our population, there has been no platform available to collaboratively evaluate our procedures and outcomes using common language. The AVR fills that important need, said Dr Lal.
Registry Structure

The AVF convened leading venous disease experts at its 2006 Pacific Vascular Symposium in 2006 to identify a way to improve patient care. They conceived the idea of a comprehensive venous disease registry and identified the following goals for the American Venous Registry:


Standardize the collection and analysis of clinical information on venous disease
Identify practice patterns for venous disease diagnosis and treatment nationwide
Answer research questions prioritized by the AVF
Provide a real-time clinical practice tool to enable individual participating physicians to improve their patient care
The Registry is comprised of five modules with several clinical practice tools and the ability to run specific defined benchmarking queries in real time. The first two modules to be launched are:
Varicose vein module
Stent module
The roll-out of the AVR will be comprised of:
IVC filter module
DVT thrombectomy/lysis module
Upper extremity DVT module
The AVR is easy to use; it is internet-based and is iPAD compatible.
The data required for each patient is geared to very salient outcomes, such as CEAP scores for classification of chronic lower extremity venous disease and Venous Clinical Severity Score (VCSS). All patient data entered is coded; there are no fields for patient names or social security numbers. It is completely HIPPA compliant.
This is the only nationwide registry on venous disease that allows real-time tracking of outcomes from individual practices and benchmarking them to a nationwide aggregate said Peter Pappas, MD, President of the AVF and Chairman of the Department of Surgery at The Brooklyn Hospital Center. Participating in the Registry is crucial for any physician who is treating venous disease in the current and future environment.
American Venous Forum
The American Venous Forum is an international consortium of venous and lymphatic specialists dedicated to improving patient care. Its mission is to promote venous and lymphatic health through innovative research, education and technology.
For more information about the American Venous Forum, log on to http://www.veinforum.org.
#