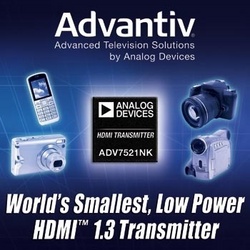 NORWOOD, Mass. (PRWEB) September 5, 2008
"As the world's smallest and thinnest single-chip HDMI v1.3 transmitter, the ADV7521NK enables high-performance HDMI connectivity in portable consumer electronics where size and weight are of critical importance," said Bill Bucklen, director, Advanced Television Segment, Analog Devices. "With low power and on-chip CEC support, the ADV7521NK also addresses market demand for high-performance transmit ICs that reduce system cost and HDMI design complexity, enabling engineers to design products with high-end HD functionality across multiple performance and price points."
The low-power transmitter offers full support for HDTV (high-definition television) video standards up to 1080p/30f, 1080i/60f, 720p/60f and computer graphics standards up to XGA at 75Hz. In addition, the ADV7521NK incorporates the industry's leading connectivity standards including HDMI v1.3 (supporting x.v.Color), the Consumer Electronics Association's CEA-861-D, and DVI v1.0 (digital video interface).
The ADV7521NK leverages the advanced core of the previously announced ADV7520/ADV7520NK. This core provides extremely low standby power, enabling designers to significantly extend battery life in portable multimedia devices where standby mode can account for as much as 90 percent of the duty cycle.
ADI's new HDMI v 1.3 transmitter helps reduce system cost by incorporating features such as I2C (inter-integrated circuit) master for EDID (extended display identification data) reading, a single 1.8-V power supply and 5-V tolerant I/Os that support I2C and HPD (Hot Plug Detect). Unlike competitive offerings, ADV7521NK eliminates the need for external voltage translators and converts I/O signals from 5 V or 3.3 V to 1.8 V, further reducing design complexity and extending battery life in portable electronics.
The ADV7521NK provides complete audio support for S/PDIF (Sony/Philips digital interface format) for LPCM (linear pulse code modulation) audio or compressed audio including Dolby Digital