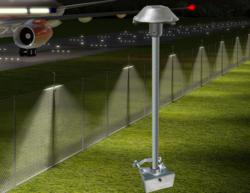 Hawthorne, NJ (PRWEB) May 17, 2012
CAST Lighting, an outdoor lighting manufacturer based in Hawthorne, NJ, has a ten-year history of producing the most durable low voltage lighting products in the market. This stature was greatly enhanced on May 9th when it received the lighting industrys highest honor The Most Innovative Product of the Year. The award was given at LightFair International 2012, the worlds largest architectural and commercial trade show.
The winning product was CAST Lightings LED Perimeter Light, a compact, energy efficient security light designed to mount on chain link fence posts. Powered by a small 24-volt transformer, this light, positioned every 20 to 30 feet, provides highly targeted illumination along extremely long fence lines.
The award judges, all top lighting professionals, were impressed by the innovative design and thinking behind the luminaire. They commented,
Never has so little light done so much work. We found this to be a simple, clean, efficient, energy-effective solution which could be used on nearly every property. It leverages the best benefits of LED low voltage operation, optical efficiency, small size and long life for a truly robust security lighting solution.
The task of illuminating long perimeter fences has always been problematic. The typical solution is to install tall pole-mounted luminaires that flood fence regions with light. This approach wastes considerable amounts of energy since most of the illumination falls outside the perimeter region. Installation of these pole-mounted lights is also very expensive in both material and labor. The new CAST Lighting LED Perimeter Light uses just 7 watts per luminaire and can illuminate 500 feet of fence with less than 150 watts of power. Typical metal halide pole-mounted lamps would require nearly 4,000 watts to light that same fence. This represents a 96% savings in energy cost.
Steve Parrott, CAST Lightings Communication and Marketing Director, comments on the potential for the LED Perimeter Light,
One of the most remarkable things about this security light is its wide range of applications. Since we introduced the product, weve been flooded with requests from Homeland Security; the military; energy companies; federal, state, and local agencies; airports; and a host of private facility managers. We are ramping up production to meet these demands, and have an aggressive R&D effort to develop new products that will address other security lighting needs.
Dave Beausoleil, president and founder of CAST Lighting, remarks on some of the other features of the LED Perimeter Light. (Watch the video.)
As with the development of our entire line of outdoor LED lights, we focused on the unique challenge of putting sophisticated electronics into a lighting fixture that would be subject to extreme environmental conditions. We protect the LED circuit from moisture, heat, voltage variations, and electromagnetic interference. The result is an extremely robust LED security light that will survive many years without problems.
CAST Lighting has full specifications, application documents, and installation instructions for its LED Perimeter Lighting System. For inquiries, call 973-423-2303 or email [email protected].
About CAST Lighting
Based in Hawthorne, NJ with production facilities in the US and Colombia, CAST Lighting produces the lighting industrys most durable and robust outdoor lighting for defense, security, landscape, and architectural applications. More information at http://www.cast-lighting.com.