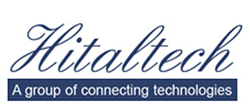 Warrington, UK (PRWEB UK) 10 February 2012
Hitaltech UK Ltd is investing in a new software platform to help the company build even stronger ties with its customers in the UK, Ireland and the USA. The specialist manufacturer and supplier of connecting technologies is currently working with Sage Business Partner Datel to implement a solution comprising Sage 200 Financials & Commercials and Sage 200 CRM.
Hitaltech was formerly a long-time user of Sage 50 Accounts and Sage ACT! contact management software but these could not deliver the unified view of the business and its customer base that is a vital ingredient in delivering excellent, profitable service in a highly competitive market.
After a careful review of the available technology, Hitaltech rejected the idea of a bespoke solution. Hitaltech UK Managing Director Andrew Fitzer explains, Why reinvent the wheel, with all the difficulties of developing and maintaining a bespoke solution, when we could have a Sage 200 solution, customised to our needs and with the full weight of Sage behind it?
Hitaltech considered another Sage Business Partner but selected Datel to implement the solution. Andrew says, We were very impressed by the Datel team. Their presentation and proposal demonstrated their understanding of our business and ability to devise a solution to meet our requirements. In November 2011, Hitaltech ordered a solution based on Sage 200 Financials & Commercials and Sage 200 CRM for customer relationship management.
As Andrew notes, long lead times are a feature of the industry: We become involved in the early stages of our customers product development lifecycle, helping them to meet particular technical challenges. Success can ultimately mean five or ten years worth of repeat business on the order books, throughout the lifetime of a motor vehicle, for example. However, due to the long design cycle, it may be two years before the deal is signed. Its a continuous process and we cannot let up for a moment, or we would face a dearth of business further down the line.
Tasked with handling sales for the UK, Ireland and USA, Hitaltech UK will use Sage 200 CRM to capture important information that will help to track and monitor marketing campaigns primarily targeted at design engineers. However, Andrew emphasises that the value of the solution will extend much further: Well be able to store everything relating to our interaction with a customer in one place. This will create a centralised and unified repository for documents such as engineering diagrams, meeting notes; correspondence such as emails; and the full order history, from logging an opportunity, generating the quote, and on through to the order.
He explains why having an integrated solution will be a big step forward for Hitaltech UK: In the past, its been difficult to consolidate all the information and activity held in two separate systems for finance and CRM. Now a member of staff viewing a customer record on Sage 200 CRM will be able to see their order history from Sage 200 Commercials.
Efficiency is set to improve, too, as Sage 200 will automate many routine processes. For example, sales orders and purchase orders are linked, a feature not available on Sage 50 Accounts. From now on, a purchase order for new components can be automatically triggered on receipt of a sales order to ensure items are available in stock when needed.
Workshops have taken place to ensure a shared understanding between Hitaltech and Datel of business requirements and of the critical factors for a successful implementation. Given the significance of the migration for the business, Andrew is rightly cautious, saying: Its too important to rush and we wont go live until everything is perfectly in place. However, were very satisfied with the way the work is progressing.
Andrew can already envisage the future possibilities that can be addressed once the system is bedded down within the business: We have the prospect of being able to go paperless, with all the associated advantages. By being able to display information such as the latest engineering diagrams and historical data from an iPad, well eliminate the need to carry paper-based documents to customer meetings and will have live information at our fingertips.
Customer care and close contact management are clearly of great importance to the continuing success of Hitaltech UK, says Jo Fulton, Sales and Marketing Director. We are delighted to have been chosen to implement an integrated solution that will give Hitaltech a consolidated and rounded view of its customer base. We look forward to supporting the business into the future with innovative solutions to meet Hitaltechs evolving needs in the highly competitive electronics industry.
About Datel
Datel is a software provider and leading Sage Business Partner in the UK offering ERP, accounting and CRM solutions from Sage. Datel supports over 900 customers worldwide in industries such as food and beverage, distribution, manufacturing, e-commerce and clothing and footwear.
Offering Sage ERP X3, Sage ERP 1000 and Sage 200 and CRM solutions Sage SalesLogix and Sage CRM, Datel specialises in understanding business requirements, tailoring a solution to specific needs and providing award-winning customer service and Sage Support.
About Hitaltech
Hitaltech offers a comprehensive range of flexible interconnect systems, PCB terminal blocks and plug and socket connectors and a wide range of enclosures. Its components are integrated into printed circuit boards that are used in applications as diverse as industrial automation, the automotive industry, domestic systems such as central heating, and remote controls for building automation.
Hitaltech is an international company, with offices around Europe and in Japan. Hitaltech UK Ltd, based in Poulton-le-Fylde, Lancashire, handles sales for the UK, Ireland and USA.
###





More Circuit Diagram Press Releases