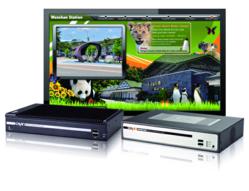 TAIPEI, TAIWAN (PRWEB) May 08, 2012
CAYIN will present advanced digital signage solutions at GITEX Saudi Arabia 2012, held from May 21st to 24th in Riyadh, Saudi Arabia. The newly released digital signage player, SMP-WEBDUO, will be showcased at Booth 617-1 for the first time in the Middle East.
Followed by the success of the show last year, CAYIN will introduce the newly released digital signage player, SMP-WBDUO, and popular digital signage applications in GITEX Saudi Arabia 2012.
The new Full HD digital signage player, SMP-WEBDUO, will be the featured product during the exhibition, said Ravel Chi, Vice President of CAYIN Technology. Compared to the old model, the new player reduces the size by one quarter and sheds half of the weight as well to make installation easier. The new player also adds an HDMI connector and the video-in function to increase your enjoyment.
SMP-WEBDUO features its capability to playback 1080p Full HD video and control two screens simultaneously. Users can choose to display either identical or different contents on these two displays in a clone or distinct mode. On top of that, SMP-WEBDUO can even stretch multimedia content from one screen to another and thus, create more stunning animation effects.
CAYINs SMP-WEB series digital signage players can also be extended to integrate with databases, web servers, RFID devices, QR codes, barcode scanners, and touch screens and develops more interactive applications.
With the rapid growth in the use of smartphones nowadays, advertisers can run a special promotion embedded with a QR code on digital signage networks to raise awareness of their products and drive customers to download coupons into their phones, or purchase products via mobile phones right away.
The Middle East has become a major market for CAYIN Technology through its continual effort over the years. Meeting face to face with partners during GITEX is essential for us to strengthen partnerships with customers in this region, said Ravel Chi.
CAYINs digital signage system has been widely used in diversified industries and some famous places, such as SABIC Academy in Saudi Arabia, UAEU (United Arab Emirates University), Aldar Properties, and SEHA (Abu Dhabi Health Services) in UAE, Suvarnabhumi Airport in Thailand, Novotel hotels, FamilyMart, Carrefour and MacDonalds in Taiwan.
GITEX Saudi Arabia is the most influential ICT event in the Kingdom. The show will take place at the Riyadh International Exhibition Centre from May 21st to 24th, 2012.
You are more than welcome to visit CAYIN at booth 617-1.
CAYIN Technology in Brief
CAYIN Technology offers a complete portfolio of digital signage solutions including media players, servers, and software which are applicable to various industries, such as education, retail, hospitality, corporate, financial, and public institutions. CAYIN is dedicated to being a reliable partner to its clients worldwide, and has successfully set up various application references globally. In order to best facilitate the deployment of CAYIN products, the company also provides tailored services to satisfy the ascending market demand for almost limitless applications.







More Embedded System Press Releases