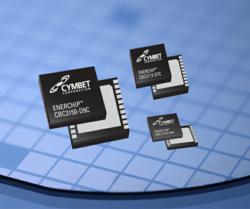 Minneapolis, MN (PRWEB) March 16, 2012
Cymbet Corporation today announced the availability of the EnerChip CC CBC3105 smart solid state battery. The CBC3105 combines the award winning EnerChip battery with integrated input power conversion, battery management and regulated output capabilities. The Cymbet EnerChip CC is a smart rechargeable solid state battery Uninterruptible Power Supply (UPS) in a chip that provides power backup to microelectronic devices when main power fails. The EnerChip CC provides power supply monitoring and switches over to the internal solid state backup battery when the supply drops below a set threshold. The EnerChip CC product family can provide anywhere from several hours to several weeks of backup time.
The CBC3105 is an ideal solution for design engineers who need a compact device to back-up a Real Time Clock or Microcontroller during power failure where coin cell batteries or super caps will not work due to size, reliability, no battery doors, no battery replacement, battery disposal issues, or need for life-of-product power. The CBC3105 uses surface mount/reflow solder assembly and is RoHS tested-compliant.
The EnerChip CC device family can accomplish all this in a footprint as small as the CBC3105 4mm x 5mm x 0.9mm package that is priced as low as $ 0.50 in high volumes. The EnerChip CC CBC3112 and CBC3150 provide even more energy storage in similar small footprint packages. The CBC3105 can be purchased at Avnet, Avnet Abacus, Avnet Asia, Digi-Key, Mouser and Farnell.
Easy-to-Use Evaluation Kits for Power Backup Applications

Cymbet makes it easy to design EnerChips into new products by offering two EnerChip CC evaluation kits: