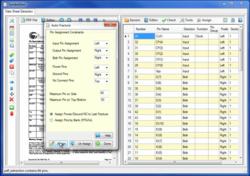 Rochester, NY (PRWEB) November 30, 2011
EMA Design Automation (http://www.ema-eda.com), a full-service provider of mechanical and electrical CAD tools, today announced the release of SymbolGen an app that automates the extraction of complex PDF tables, including BGA and SOIC maps, cutting time down to a fraction and eliminating errors normally seen in a manual entry approach. Symbol creation is a constant challenge for circuit designers, said Manny Marcano, president and CEO of EMA. Todays complex schematic symbols have upwards of 2,000 pins or more and can take a significant amount of time to create. If you consider a design requiring a number of new symbols, this app can turn a weeks worth of effort into a day.
SymbolGen automates the extraction and correlation of complex PDF tables and diagrams, which are often split over multiple PDF pages. Reusable PDF templates can be created giving intelligent meanings to the extracted content, including pin name, pin number, pin direction, and bank name.
Automation utilities exist to quickly format multi-processor and multi-function pin definitions. Duplicate pin numbers, invalid pin direction codes, and other common datasheet or data entry inconsistencies can be easily identified and corrected, up front in the design process. SymbolGen saves more time with large, complex symbols, but even moderate sized parts can be done more easily, quickly, and with fewer errors.
SymbolGen is just one of the apps available inside the Cadence