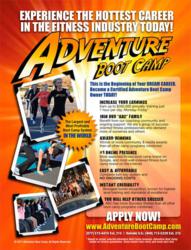 Rancho Santa Margarita, CA (PRWEB) January 05, 2012
Bringing the thrill of adventure boot camp home to trainers, the new Adventure Boot Camp Drill Book, written by international master trainer Kelli Calabrese, offers fresh, fine-tuned boot camp workout drills in a downloadable book that is available at http://www.adventurebootcamp.com/products.
In the downloadable drill book, Calabrese created new exercises, games, obstacle courses and more, including more than 20 different warm-ups, more than 20 different circuit routines, workouts with no equipment, cardio drills, core routines and more for clients of all levels and interests. The Adventure Boot Camp Drill Book also includes diagrams of boot camp set-ups to make it easier to adopt the various programs.
You can increase both your profits and your clients success with some of the best boot camp drills ever created, said John Spencer Ellis, founder of John Spencer Ellis Enterprises, a personal development and fitness solutions company, and creator of the Adventure Boot Camps along with Calabrese. With this book, you will have limitless, creative and effective workouts that will last year for years to come.
Combining the best of adventure and exercise, the Adventure Boot Camp Business System online training, which is offered by the National Exercise & Sports Trainers Association (NESTA), is the worlds largest boot camp business system, providing comprehensive training for personal trainers looking to expand their current business. The Adventure Boot Camp Drill Book supplements and complements the online boot camp training, which can help trainers create effective boot camp workouts as well as marketing and business strategies.
Fitness teachers and trainers can learn more and order the Adventure Boot Camp Drill Book and other boot camp products at http://www.adventurebootcamp.com/products and view sample pages of the book and workouts at http://www.adventurebootcamp.com/wp-content/uploads/2010/03/Drill_Book_sample_pages.pdf.
About John Spencer Ellis Enterprises and The Adventure Boot Camp Drill Book
John Spencer Ellis Enterprises is a solutions provider for fitness and coaching professionals around the world, providing education, turn-key business programs, coaching and resources for new and advanced fitness and coaching professionals. For more information about John Spencer Ellis Enterprises or to order the Adventure Boot Camp Drill Book, please visit http://www.adventurebootcamp.com/products
###

More Circuit Diagram Press Releases