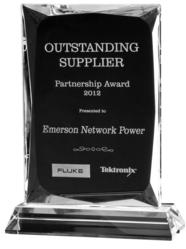 CARLSBAD, Calif. (PRWEB) April 24, 2012
Emerson Network Power, a business of Emerson and the global leader in enabling Business-Critical Continuity, today announced that it has been recognized by Danahers Test and Measurement Platform with an Outstanding Supplier Partnership Award for the year 2012. This is the third year in a row that Emerson Network Powers Embedded Power business has been honored with this award from Danaher, owner of the leading Tektronix and Fluke brands.
Emerson Network Power was chosen based on criteria including quality, delivery, technology leadership and excellent service. The companys power supply solutions are supported by a local trusted channel partner, backed by Emerson Network Powers global engineering, program management and customer service teams.
Over many years, Emerson Network Power has consistently provided superior value and support for the Test and Measurement business, said Bob Mahlik, vice president, global procurement, Test and Measurement for Danaher. A foundation of technology innovation, quality culture and ability to solve the tough problems, while looking at the big picture, has created an exemplary trusted supplier relationship.
We are honored to receive this recognition from Danaher for the third year in a row, said Dana Huth, president of Key Accounts and Distribution for Emerson Network Powers Embedded Power business. The exceptional local support delivered by our network of trusted channel partners is backed up by a passion for excellence that every member of the Emerson team brings to each customer. We are committed to providing the highest value power conversion solutions and being the partner that our customers can have confidence will exceed their expectations.
More information about power supply products from Emerson Network Power can be found online at http://www.Emerson.com/EmbeddedPower.
About Emerson Network Power

Emerson Network Power, a business of Emerson, is the global leader in enabling Business-Critical Continuity from grid to chip for telecommunication networks, data centers, health care and industrial facilities. Emerson Network Power provides innovative solutions and expertise in areas including AC and DC power and precision cooling systems, embedded computing and power, integrated racks and enclosures, power switching and controls, infrastructure management, and connectivity. All solutions are supported globally by local Emerson Network Power service technicians. For more information on Emerson Network Power's embedded power products and services for original equipment manufacturers and system integrators visit http://www.Emerson.com/EmbeddedPower. Learn more about Emerson Network Power products and services at http://www.EmersonNetworkPower.com.
About Emerson

Emerson, based in St. Louis, Missouri (USA), is a global leader in bringing technology and engineering together to provide innovative solutions for customers in industrial, commercial, and consumer markets around the world. The company is comprised of five business segments: Process Management, Industrial Automation, Network Power, Climate Technologies, and Commercial & Residential Solutions. Sales in fiscal 2011 were $ 24.2 billion. For more information, visit http://www.Emerson.com.
Emerson Network Power and the Emerson Network Power logo are trademarks and service marks of Emerson Electric Co. All other product or service names are the property of their respective owners.