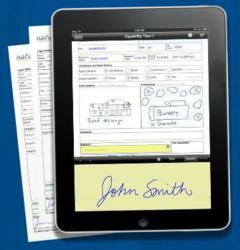 Miamisburg, OH (PRWEB) January 10, 2012
ExpeData, an innovative software company and a global leader in natural input technologies, will demonstrate the latest solutions for mobile data capture and forms management in the Vision Objects booth #36073 at the 2012 International Consumer Electronics Show (CES) on January 10-13, 2012 at the Las Vegas Convention Center.
naturalFORMS, ExpeDatas next generation enterprise forms application, provides the power to automate forms-based data collection at the point of entry using handwriting and other methods of natural input with straight-through processing to backend systems. naturalFORMS significantly enhances productivity and meets the growing demand for business applications that facilitate paperless workflows.
Leveraging its market-leading EDW