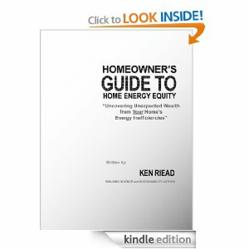 Independence, MO (PRWEB) May 02, 2012
The economic crisis, with foreclosed houses and defaulted loans, has wreaked havoc on the monetary value (equity) of our homes. This book helps homeowners understand how to lower their cost of living while increasing the hidden "Energy Equity" embedded in their homes at the same time. Even homes that are losing value can have hidden equity that will benefit a homeowner; it is just a matter of knowing how to access it.
This authoritative reference is the first book to take the concepts of building science, financial analysis, investment strategies, and real estate equity and pull them all together for the homeowner's benefit. The Homeowner's Guide to Home Energy Equity walks a homeowner fully through the history of this concept, the benefit to the homeowner, and the steps to follow to reclaim lost equity through energy efficiency improvements. Conversely, installing energy improvements or adding renewable energy systems, such as solar or wind, without regard to the financial implications will potentially reduce or eliminate the Energy Equity. This book will help the homeowner understand the implications and act to protect and maximize their equity investments.
Links to more information and a full example of how the process and the math works are included. If you are considering selling your home, purchasing a home, building a home or even just improving the energy efficiency of your existing home, town-home, condo, or other type of residence you should read this book before moving ahead.
The author, Ken Riead, is a chartered "Legend in Energy" by the Association of Energy Engineers and he is a certified Home Energy Rater, certified Sustainable Design Professional, senior certified Energy Manager, and senior certified Demand-Side Manager. He has a long history of consulting for state energy offices, utilities, educational, commercial and residential clients about energy efficiency and energy programs. As a certified Energy & Environmental Instructor, Ken is able to take complex ideas and concepts and effectively communicate them to people from all backgrounds and levels of expertise.
This book is available as an Amazon Kindle download and will also soon be available on other websites and in other formats. Anyone with a computer can download the Kindle Reader app for free by going to: http://www.amazon.com/gp/feature.html?docId=1000426311







Related Embedded System Press Releases