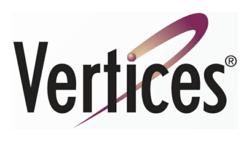 Natick, MA (PRWEB) May 02, 2012
B&L Associates, Inc., the leader in open systems tape management solutions, announced the release of Vertices 5.4, the latest iteration of their flagship tape and media management software solution that makes data centers compliant and efficient while saving data center professionals hundreds of hours each year.
The Vertices Tape Management System stores, moves, tracks and protects all the active and archived data in a company. Vertices 5.4 comes on the heels of the release of their new Hard Disk Drive Tracking Module, which ensures the proper destruction of hard disk drives, mitigating legal and non-compliance risk.
With Vertices 5.4, data center professionals can work more easily with managed locations (N-tier sublocations) as well as exercise greater control over container management. In addition, Vertices 5.4 provides embedded job scheduling for greater efficiency, greater flexibility creating and editing action lists, and access to a wider range of storage locations via Vertices bar code scanning module enhancements. A more comprehensive list of features is available on B&L Associates Web site at http://www.bandl.com/vertices/upgrade.asp
As with past improvements, many of the upgrades provided in Vertices 5.4 were created in direct response to customer requests.
B&L has always been known for having the best service in the industry, said Michael Kramer, VP Sales and Marketing at B&L Associates. These types of improvements are just one of the ways we stay true to that ideal. We have always listened intently to our customers so we can provide solutions that help solve the types of challenges they face every day.
B&L Associates will be providing a free upgrade to Vertices 5.4 for existing customers, who are directed to the companys support page at http://www.bandl.com/support/index.asp.
About B&L Associates, Inc.

Since 1975, B&L Associates, Inc. has offered the most powerful, flexible and robust data center operations automation products and storage management solutions available for open and legacy environments. Thats why industry-leading companies in 26 countries around the world like Anheuser-Busch, AT&T, Cisco, Citigroup, Credit Suisse, Intel and Qualcomm, to name a few, rely on B&L for their tape management needs. Additional information about B&L Associates is available at http://www.bandl.com or by calling 800-OKBANDL (800-652-2635).