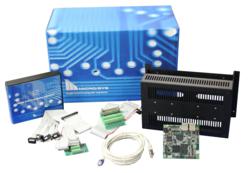 Montrose, California (PRWEB) September 15, 2011
Micro/sys, a leader in embedded single board computer manufacturing, has released a turn-key ARM single board computer development environment for the Xilinx Spartan 6 FPGA(field programmable gate array) aimed at accelerating development of FPGA-based applications for low-power embedded systems. The DK-FPGA1651 provides designers the option to develop and debug their FPGA firmware for porting to their own user-designed hardware or to keep the firmware on the validated COTS platform for their final application. With all the basic building blocks in one package, designers can work smarter and leverage pre-validated hardware and software including FPGA firmware (VHDL and Verilog) examples to improve productivity, reduce R&D costs, and speed time to market.
The DK-FPGA1651 enables designers who intend to use the SBC as their targets hardware to use the Spartan 6 in various modes depending on the complexity of their application. For instance, FPGA users can begin by implementing simple on-board I/O such as UARTs, DIO, and/or CAN in the FPGA. This added I/O can interface to the outside world through 64 bi-directional signals mapped directly from the FPGA to headers. Additionally, there are 4 RS232/RS485 transceivers and 5 differential LVDS signals to ease I/O expansion.
For more advanced, higher-level system designs, the integration between the Freescale Semiconductors i.MX515 ARM Cortex A8 processor and the FPGA enables developers to expand upon the SBCs feature set by adding IP cores in the FPGA which bring features such as DSP, gigabit Ethernet, SATA, or dual video to the SBC with firmware. Additionally, users can choose to implement yet another processor on-board such as the Xilinx Spartan 6 MicroBlaze for dedicated control independent of the SBCs CPU. Micro/sys provides the complex communication interfaces between the Spartan 6 MicroBlaze, the FPGA and the i.MX515 by implementing a fast memory bus interface and making IRQs available to the user. The user is free from having to develop and debug these complex interfaces and can focus his/her efforts on developing his/her unique firmware for the FPGA almost immediately.
For those designers simply needing quick access to develop, test, and debug their FPGA firmware before porting it to their own hardware, the DK-FPGA1651 also fits the bill. With a single board computer, users are able to capitalize on the benefits of a validated development platform while maintaining and retaining the freedom to utilize their own hardware for the final application. Additional advantages include the ability to support legacy designs or easily develop and control multiple versions of their application by merely installing a different revision of the FPGA firmware code, all without having to worry about complicated hardware BOM changes.
With all the necessary components to immediately start development with the Spartan 6, the DK-FPGA1651 two-in-one turn-key kit allows designers to focus on building differentiating features into their end application. To ease I/O hardware pinouts, the DK-FPGA1651 comes with multiple connectivity examples including 64 lines of bi-directional GPIO signals, four pre-validated transceivers for RS232/RS485, and five differential LVDS signals for user-defined configuration. These added features enable easy addressing and decoding for customized protocols by providing designers a 32-bit data bus as well as 32-bits of addressing lines for data-in, data-out of various IP cores for functions such as real time video, motion control, and industrial Ethernet. Designers profit from the easy-to-use Xilinx ISE Design Suite including the Embedded Development Kit and vast selection of validated IP cores as well as Micro/syss embedded system expertise to shorten design time and gain smarter methodologies for creating FPGA-based solutions. In addition, by leveraging Micro/syss 30+ years experience providing embedded single board computers, designers gain a development platform that doubles as a rock-solid infrastructure with a 15-year lifecycle.
The DK-FPGA1651 starts at $ 1695. The kit includes the Micro/sys SBC1651 (Linux- or WinCE-Ready), Xilinx ISE and EDK design software and Micro/sys interface software, multiple reference designs and demos, and all the necessary cables and adaptors (http://www.embeddedsys.com/subpages/products/images/pdf/Datasheet_DK-FPGA1651.pdf). Micro/sys also offers custom FPGA programming services. OEM modules are available. Contact Technical Sales Dept., Micro/sys, Inc., 3730 Park Place, Montrose, CA 91020, phone (818) 244-4600, FAX (818) 244-4246, email: info(at)embeddedsys(dot)com, URL: http://www.embeddedsys.com
About Micro/sys: Since 1976, Micro/sys has been specializing in OEM high-performance, compact, low-power embedded pc products suited for demanding environments. Pioneering the USB movement within the stackable computer market with the creation of StackableUSB, Micro/sys is a leading provider of Host and Client USB microcomputer and microcontroller boards. Micro/sys embedded ARM, microcontroller, and x86 single board computers are specified by OEMs in a range of applications including semiconductor processing, medical, military, mail handling, pharmaceutical, industrial marking, process control, and many other industries. For more information, visit the Micro/sys website, http://www.embeddedsys.com.
# # #





Find More Microcontroller Press Releases