Pause Function
You can press STOP/Clear button during countdown phase to pause the timer and to switch of the associated relay of selected function (microwave or grill). This will enable you to open the door of oven and have a look at the food being cooked. During this, a PAUSED! message will be displayed on the LCD. Once you are done with your inspections you can close the door and press the START button. This will resume the cooking process.
Quick Start Function
Quick start function does the following tasks at the single press of button.
Select mode Microwave.
Set on time to 30 sec.
Turn on the microwave.
Start the countdown.
You can press START button at the home screen to achieve quick start.
Once the count down has started you can press START to increase on time by 30 seconds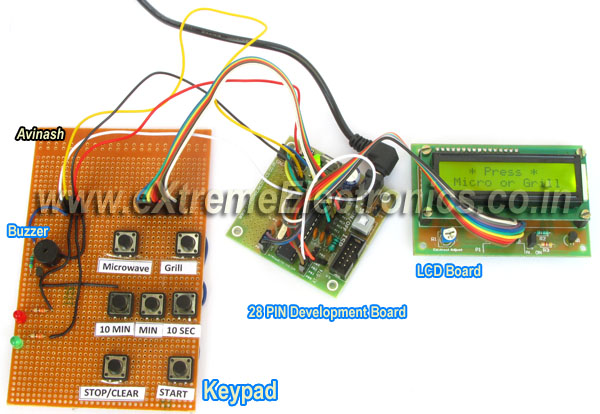 Hardware for Microwave Timer
The timer is built around ATmega8 AVR microcontroller. This is a very small single chip computer which runs a small program stored in its flash memory. This program provides all the functionalities of the timer.
Our microcontroller controls the LCD Module, the relays and the buzzer. It receives user input from the keypad.
MCU Core
Microcontroller chip requires a basic circuitry for functioning. This consists of the following parts.
Power supply: This provides 5v regulated DC power to the microcontroller. It receives input 12V DC from a 12V adapter.
ISP Header: In circuit programming header. Used to easily connect an ISP Programmer to upload programs to the Microcontroller.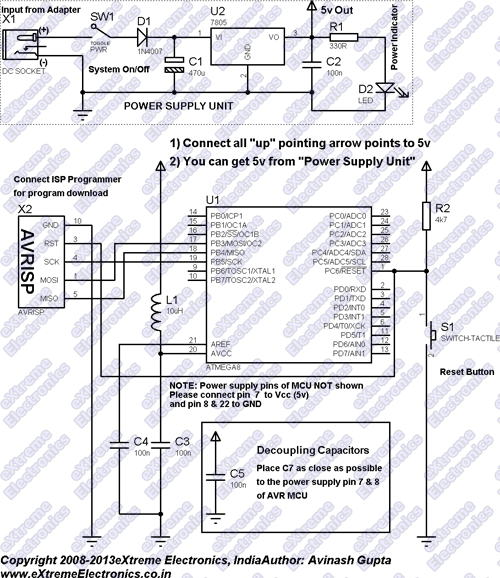 Reset Circuit: A pull up resistor holds the RESET pin of MCU to high state. This is required for normal operation.
For more detail:  Microwave Controller using ATmega8 – AVR Project