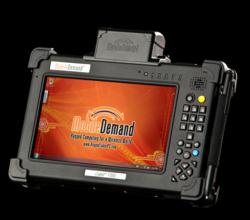 Hiawatha, Iowa (PRWEB) May 22, 2012
MobileDemand, the nations leading provider of Rugged Tablet PC systems in Transportation, announced today that the xTablet T7000 rugged tablet PC is now Gobi 3000 certified. Gobi allows the computer hardware to access the 3G global networks provided by various wireless carriers.
MobileDemand users of xTablets equipped with Gobi 3000 will be able to take advantage of high speed mobile networks, embedded GPS capabilities and a Gobi application programming interface. All of this can be done at speeds up to 14.4 Mbps downlink and 5.76 Mbps uplink.
Many of our customers have field operations that are mission-critical to their business. With the xTablet T7000 with Gobi 3000, they can extend enterprise applications beyond the four walls so that mobile workers can get the information they need to be more efficient and productive at the point of work, says Bob Zink, MobileDemand Vice-President of Sales and Marketing.
In industries such as field service, transportation and public sector, its vital for employees in the field to have a wireless connection at all times. Whether its used by a manager, dispatcher or other field worker, Gobi 3000 is a go-to solution that puts an end to connectivity limitations. Now, real-time information such as asset tracking, route optimization and work order management can be enabled with the MobileDemand Rugged Tablet PC, the ultimate productivity tool.
MobileDemand xTablets are built military rugged to withstand the rigors of real-world field applications. They are MIL-STD 810G compliant and have an Ingress (Sealing) Rating of up to IP65, which means they have been tested to survive pressured water, temperature extremes, rain, humidity, salt, sand, dust, shock, vibration and 26 consecutive drops up to 5 feet. xTablets are full Windows 7 PCs and are powered by Intel processors to provide all the performance needed to handle graphic and data intensive applications. They offer hot-swappable and high capacity batteries for all-day use and several input options such as pen-stylus, numeric keypad, on-screen or full QWERTY keyboard. They provide all-light readable displays, color cameras, and optional bar code and credit card scanners (on the xTablet T7000 and xTablet T8700). Optional cradles, mounts and accessories are also available.
The MobileDemand xTablet T7000 Gobi 3000 has been certified on the T-Mobile and Verizon 3G Networks. MobileDemand customers with a rugged tablet PC with Gobi 3000 who currently use these networks can realize all of the advantages of staying connected. Employees, customers and partners can now work together from wherever they are and improve processes and customer experiences to achieve sustainable growth.
About MobileDemand
MobileDemand is the leading provider of Rugged Tablet PC systems used in transportation in the United States. MobileDemand is also a leading provider of rugged tablet computers used by mobile workers in Food and Beverage Distribution, Manufacturing, Retail, Hospitality, Field Service, Agriculture, Utilities, Military and Public Sector. xTablet rugged Tablet PC systems are ideal tools for improving operational efficiency and allowing mobile workers to make better business decisions at the point of interaction. They provide ultra-mobility and versatility and are built military rugged to withstand harsh environments. They offer a high resolution, all-light readable touch screen, functionality of a full Microsoft Windows 7 OS and the power of an Intel processor to deliver performance at a lower cost and enable greater efficiency and productivity in the field. Additional information about MobileDemand is available at http://www.RuggedTabletPC.com.

Find More Embedded System Press Releases