Monolithic Power Systems (MPS) MP3364 4-Channel Boost WLED Driver is a step-up converter with four-channel current sources. The device is designed to drive white LED arrays as backlighting for small- or medium-sized LCD panels. The device uses peak current mode as its PWM control architecture to regulate the boost converter. Four-channel current sources are applied to the LED cathode to adjust the LED brightness. The MP3364 regulates the current in each LED string to the value set by an external current setting resistor, with 2.5% current regulation accuracy between strings.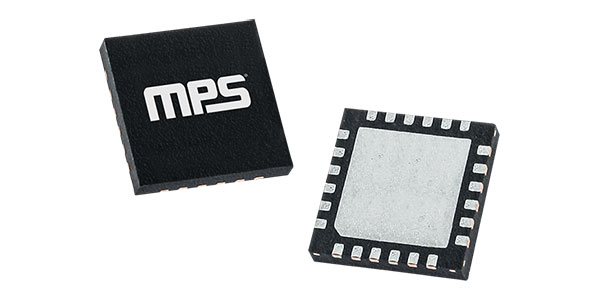 A low on-resistance MOSFET and headroom voltage are provided to improve efficiency. The MP3364 has a standard I2C digital interface for easy use. The switching frequency can be configured via a resistor, I2C interface, or external clock. The MP3364 provides analog, PWM, and mixed dimming modes with a PWM input. The dimming mode can be selected via the I2C interface or the MIX/AD pin. The device also has a phase shift function to eliminate noise during PWM dimming.
Robust protections are included to guarantee safe operation. Protections include over-current protection (OCP), over-voltage protection (OVP), over-temperature protection (OTP), LED short protection, and LED open protection. The MP3364 can automatically decrease the LED current at higher temperatures. The Monolithic Power Systems (MPS) MP3364 is available in a QFN-24 (4mm x 4mm) package.
Features
3.5V to 36V input voltage range
Four channels with a maximum 150mA per channel
Internal 100mΩ, 50V MOSFET
Configurable fSW Up to 2.2MHz
External sync SW function
Multi-dimming operation mode through PWM input, including:
Direct PWM dimming
Analog dimming
Mixed dimming with 25% or 12.5% transfer point
Read more: MONOLITHIC POWER SYSTEMS (MPS) MP3364 4-CHANNEL BOOST WLED DRIVER