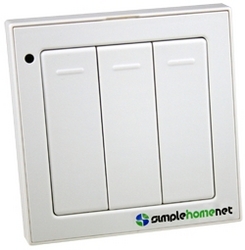 Las Vegas, NV (Vocus) January 7, 2010
SimpleHomeNet, division of Compacta International, Ltd., and provider of home and building automation solutions, today announced that its ZBWS was awarded ZigBee PRO HA certification. The ZBWS is a versatile single, double or triple keypad switch capable of controlling ZigBee enabled appliances with on, off and toggle commands. The ZBWS has the potential of significantly reducing copper wiring in a retrofit or new construction as it can be wall mounted to control ZigBee lights, fans and other appliances. The unit operates on two AAA alkaline cells that can last more than 3 years.
The ZigBee HA profile is the leading standard
The ZBWS keypad is another key player to enable our electricity and water management solutions based on ZigBee, says Al Choperena, president of Compacta/SimpleHomeNet. The keypad is designed for low-cost, ease of use and wide applicability, which are the main goals we have set forth on all our products.
Availability and Pricing
The product is being introduced at CES (LVCC South Hall, booth #22047) in Las Vegas this week and will be available for shipping in large quantities later this month. Pricing is very competitive and can be obtained from SimpleHomeNet.
About SimpleHomeNet
SimpleHomeNet is focused on bringing cost-effective solutions that save electricity and water while providing additional comfort and convenience in homes and buildings. The company is currently delivering several power-line based products and has a rich pipeline of ZigBee products being introduced in 2010.
###







More Microcontroller Press Releases