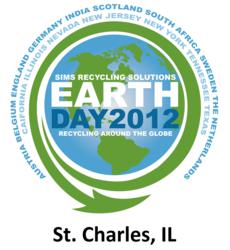 St. Charles, IL (PRWEB) March 28, 2012
Sims Recycling Solutions, the global leader in electronics reuse and recycling, will host a free electronics recycling event with Kane County to encourage the community to recycle their electronics. All items brought for recycling will be safely and responsibly recycled by Sims Recycling Solutions. The event will be held on April 14, 2012, at the Kane County Circuit Clerk Building located at 540 S. Randall Road, St. Charles, IL 60174 from 8:00 a.m. to 2:00 p.m.
This community electronics collection event in celebration of Earth Day gives every resident of Kane County the opportunity to be a good environmental steward through the simple act of recycling an old device. Proper recycling of e-waste keeps thousands of pounds of waste out of landfills, keeps toxic substances out of soil and water and conserves limited natural resources, stated Steve Skurnac, President, Sims Recycling Solutions, Americas. For individuals who may be hesitant to dispose of their unwanted gadgets because of privacy or ecological concerns, this event gives everyone access to convenient, free and responsible electronics recycling that protects their personal data and the environment.
This e-waste collection event will be set up as a drive-through and drop-off event. Staff will be on hand to conveniently and quickly collect items from community members vehicles. Please visit http://us.simsrecycling.com/news-and-resources/events for more information.
Sims Recycling Solutions can accept computers (desktops and laptops), computer monitors, printers, televisions, mobile telephones, computer cables, mice, keyboards, fax machines, MP3 players, PDAs, video game consoles, video cassette recorders and players, DVD and CD players, or similar video devices, zip drives and scanners. Sims cannot accept microwaves, air conditioners, household appliances (e.g., washers, dryers, refrigerators or water heaters), batteries, and smoke or carbon monoxide detectors.
Sims Recycling Solutions

Sims Recycling Solutions (us.simsrecycling.com) is the global leader in electronics reuse and recycling, offering customers in every business sector comprehensive recycling services out of our 50 owned and operated sites across the globe.
Sims Recycling Solutions owned by Sims Metal Management, the worlds largest publicly listed metal and electronics recycler has the global reach, expertise and infrastructure necessary to guarantee our customers that their data is secure, their electronic equipment is processed in an environmentally responsible manner, their reputation is protected and their compliance risks are eliminated.
In North America, Sims Recycling Solutions operates 14 sites in Arizona, California, Florida, Illinois, Nevada, New Jersey, Ontario, South Carolina, Tennessee and Texas.





Find More Electronic Circuits Press Releases