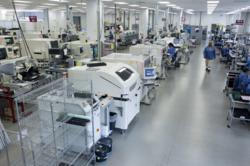 Baltimore, MD (PRWEB) May 02, 2012
Zentech Manufacturing, Inc. a Baltimore based company specializing in the design and manufacture of circuit board assemblies for a variety of industries announced today they have successfully completed their audit for registration as an ISO 13485 organization. This registration will recognize the Zentech Quality Management System according to the standard ISO 13485:2003 Medical Devices Quality Management Systems Requirements for Regulatory Purposes.
The three day assessment, performed by auditors from NSF International, ended today with a recommendation for registration. According to their website, NSF International Strategic Registrations (NSF-ISR) offers comprehensive management systems registrations to internationally accepted standards for quality assurance for the automotive, aerospace, medical, and manufacturing industries (e.g. ISO 9001, ISO 14001, AS9100, etc).
Matt Turpin, Zentech President, stated the successful completion of this important strategic objective highlights Zentechs commitment to the medical devices industry, and offers equipment manufacturers a domestic alternative to off-shore suppliers.
Zentech Manufacturing, Inc. is a leading electronics contract manufacturing and engineering company specializing in high-complexity SMT assembly and test. Zentech provides turnkey circuit card assembly and testing, as well as design engineering services to the aerospace, defense, medical and communications markets. For more information go to http://www.zentech.com.