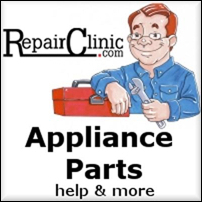 Canton, Mich. (PRWEB) July 23, 2007
GE is justifiably proud of its catchy "we bring good things to life" TV commercials. But like all things mechanical, GE refrigerators, cook-tops, stoves, microwave ovens, dishwashers, washers and dryers will eventually need maintenance or repair. Most owners will pick up the phone and book an appointment with an appliance repairman. However, many broken appliances can be fixed by anyone — even someone with no experience with appliance repair.
Fred T. of Watervliet, New York, recently managed to repair his GE dishwasher and washing machine. "I never had any interest in computers, but when I became disabled, I really wanted something to do around the house," says Fred. "Once I got a computer, it didn't take me long to get hooked. My first shopping experience was a clothes purchase. Now, I've discovered that home repair is just a mouse click away."
Fred first discovered RepairClinic.com after the family's dishwasher stopped working. "The push-button for the rinse fluid was broken," explains Fred. He went online to see if he could locate a genuine GE appliance part and found RepairClinic.com. He found what he needed and made the repair himself. Soon after, his washing machine stopped working again. "The agitator wouldn't operate," said Fred. "Again, I fired up my computer and checked out RepairClinic.com." By using the RepairGuru and looking at the online schematics, he learned that a couple of gears had broken, so he ordered new GE appliance parts from RepairClinic.com.
"Then, I'll be darned if I didn't break the shelf in the refrigerator," he says. "That was easy enough to order and replace. Now, just a couple of weeks ago the refrigerator went on the fritz. But with RepairClinic.com's perfect diagrams, I was able to determine that it was the freezer fan motor because of the chirping noise."
Consumers can save time and money with appliance repair DIY
Even if it's not obvious what's wrong with the appliance, or which GE appliance part is needed, RepairGuru, the company's online automated expert, can diagnose the problem. Consumers simply enter the symptoms online and the RepairGuru determines what needs fixing, which parts are required, and provides all the instructions needed to do the repair. With RepairClinic.com, homeowners can repair their appliances quickly and inexpensively, with no need to wait for a technician.
"Nowadays, there are many appliance problems that can be fixed by consumers, and we can provide the free online advice and genuine GE appliance parts they need to do the job," says Chris Hall, a former appliance technician himself and a founder of RepairClinic.com.
"I bet I've saved hundreds of dollars — $ 250 alone to diagnose and repair my GE refrigerator," says Fred. "RepairClinic.com is such a great website. Diagnosis is simple, parts arrive quickly and the price is right. If you like to tinker, RepairClinic.com is the place to go."
RepairClinic.com makes it easy to find the right appliance part
The RepairClinic.com PartDetective identifies the right appliance part for any repair, and provides a photo, pricing and availability, avoiding complicated "exploded diagrams." Consumers who visit RepairClinic.com can also sign up for a monthly newsletter that provides valuable maintenance tips, straight from the experts. A monthly appliance repair calendar is available here.
About RepairClinic.com