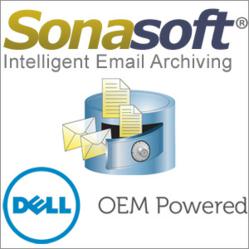 San Jose, California (PRWEB) May 23, 2012
Sonasoft Corporation, an innovative, leading provider of enterprise-class email archiving solutions, announces the immediate availability of SonaVault Email Archiving Appliance, a complete email archiving solution featuring Dell PowerEdge Servers, Microsoft Windows, and Microsoft SQL Server. Small and medium-sized organizations may now obtain ready-to-use solution of enterprise level archiving for their Microsoft Exchange Servers with hardware and software from some of the most trusted brands in the industry.
Customers purchasing the SonaVault Email Archiving Appliance will benefit from Sonasofts acclaimed software support and Dells three-year hardware warranty. Each SonaVault Email Archiving Appliance comes with Microsoft Windows Server 2008 and Microsoft SQL Server installed. Attractive leasing options now are available to make acquisition of this complete solution even easier for customers wishing to minimize one-time payments.
A major benefit of the new Sonasoft Email Archiving Appliance, featuring Dell PowerEdge Servers, includes its lower total cost of ownership (TCO). For example, storage on the SonaVault Email Archiving Appliance may be expanded hassle-free at any time. Alternative archiving appliance vendors with seemingly low prices typically require the customer to grow by purchasing a complete replacement unit as well as undergo the time-consuming inconvenience of backing up and reconfiguring the customers data to the new replacement box.
We have listened to our customers. Now, we are delivering what they have been asking for, said Andy Khanna, CEO and President of Sonasoft. Small and medium-size businesses and organizations, in particular, want an email archiving appliance that is scalable, upgradeable, and has first-tier hardware with the protection of the three-year Dell Warranty. With Sonasofts email archiving software, SonaVault, on Dell PowerEdge Servers, customers can easily expand their number of mailboxes and storage. Theres no need to swap out the appliance. The cost-effectiveness and peace of mind delivered in this complete archiving package cannot be found elsewhere. For example, in the unlikely event that a hard drive should fail, Dells RAID 5 technology requires that system administrators need only to replace the failed drive and watch their data restore. Its that simple.
Each SonaVault Email Archiving Appliance is integrated and tested prior to delivery by Avnet Embedded, a division of Avnet Electronics Marketing Americas, a business region of Avnet, Inc. Capitalizing on Avnets world-class integration capabilities and supply-chain expertise, Sonasoft will employ Avnet to ensure that each SonaVault Email Archiving Appliance meets the stringent demands of todays small and midsize companys email archiving needs.
Supporting Sonasoft with our test, integration and supply chain services is a true testament to the commitment that Avnet Embedded has made to provide embedded solutions to support the infrastructure needs of small and mid-size businesses around the globe, said Chuck Kostalnick, Vice President of Avnet Embedded.
LEASING OPTIONS

Customers may arrange to lease their SonaVault Email Archiving Appliances featuring DELL PowerEdge Servers. Leases range from as little as $ 227 per month depending on the DELL Server configuration and other factors.
More information about Sonasofts email archiving appliance featuring Dell PowerEdge Servers and leasing options is available at:
http://www.sonasoft.com/products/email-archiving-appliance/email-archiving-appliance-dell-servers-microsoft/
For orders and other inquiries regarding Sonasoft products and services, contact:
Andy Khanna

CEO and President of Sonasoft Corporation

Direct – (408) 708-4000

Mobile – (408) 893-8210

Source: http://www.sonasoft.com







Related Embedded System Press Releases