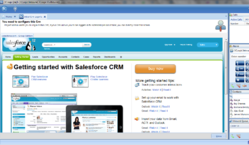 Rockville, MD (PRWEB) January 31, 2012
3CLogic, the leader in cloud based contact centers hosted on Amazon Web Services (AWS), is proud to announce a four-point incentive program to encourage enterprise customers constrained by outdated call center technology to switch to a cloud based solution that fully integrates with their existing CRM systems. This four-point incentive promotion will be running throughout the months of February and March, ending on March 30th, 2012.
The incentives announced under the CRM Connector Package include:

1. Contact Center Integration with existing CRM systems: For a limited time, 3CLogic is offering qualified users of CRM systems such as Salesforce.com, Microsoft Dynamics, and Leads360 full assistance to integrate Computer Telephony Integration (CTI) controls within their CRM user interface. Users will spend little to no time adjusting to CTI controls embedded within homegrown or standard CRM systems as they continue to use the CRM interface they are most knowledgeable and comfortable with. The goal is to increase user productivity and make their workflow more efficient while decreasing any additional training or learning time.

2. Free CRM Integration: 3CLogic is offering new customers under this program free customization services and support for integrating their existing CRM software with 3CLogics Contact Center Software. This incentive will help customers migrate from outdated premised based call center technology to a cloud based contact center. Included with this offer are free customization, complete scalability and tailored flexibility to provide a comprehensive service to increase revenues and eliminate capital expenses.

3. Discounted Training: With the CRM Connector Package, customers will receive a 50% discount on user and administrative training throughout the promotional period. These are live training sessions conducted by certified 3CLogic representatives and support staff. Additionally, customers will have free access to e-training modules.

4. Fully Customizable Customer Information Management: The CRM Connecter Package makes administering customer information easy and effortless instead of a difficult process. With the CRM Connector Package, contact center managers will have the ability to migrate their representatives over to an easy to use interface where phone calls can be stopped, started, managed, and administered using CTI through a single window view. 3CLogic will perform all the customization required to do this.
Our customers have told us that Contact Center integration with CRM systems is the most critical part in providing superb customer service and conducting effective marketing campaigns. said Ramana Reddy, Director of Client Services at 3CLogic. He continued, This promotion now allows us to offer new 3CLogic customers an opportunity they cant pass up – a comprehensive CRM and CTI integration package at absolutely no cost to them while they migrate to a cloud based Contact Center.
3CLogic provides a unique cloud based contact center platform built on its Virtual Telephony Applications Grid (V-TAG) architecture. Based on distributed computing, V-TAG achieves major performance and efficiency gains over traditional client-server approaches. Integrated with comprehensive analytics and reporting tools, 3CLogic lets contact centers analyze campaign and agent performance for greater efficiency gains and business productivity. 3CLogic delivers solutions that can seamlessly integrate with existing CRM programs, which allows customers to eliminate expensive up-front hardware and software costs and to quickly deploy and adopt on-demand software for customer interaction.
Pricing and Availability

The CRM Connector Package is available immediately by calling 1-800-350-8656 and talking to a CRM Integration Specialist. A detailed video demonstration of the contact center software can be viewed at http://www.3clogic.com/demos. Offer ends on March 30th, 2012.
About 3CLogic:

3CLogic, headquartered in Rockville, Md., is a leading provider of cloud based call center and social media applications for interactive e-commerce transactions. 3CLogic adds voice, chat and text capabilities to any e-commerce transaction on social media networks and combines them with a cloud based contact center solution. 3CLogics Inbound Cloud Call Center and Hosted Predictive Dialer, combined with cloud technologies, helps companies of all sizes increase sales and provide better customer service. For more information, please contact 3CLogic at 800-350-8656 or info(at)3clogic(dot)com. http://www.3clogic.com.
###
Low cost PCB on PCBWay - only $5 for 10 PCBs and FREE first order for new members
PCB Assembly service starts from $88 with Free shipping all around world + Free stencil
PCBWay 2nd PCB Design Contest