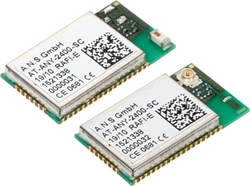 (PRWEB) November 10, 2010
Adaptive Network Solutions, a leading system design house, announced today at the Electronica 2010 in Munich, Germany, its new @ANY2400SC IEEE 802.15.4/ZigBee RF module for 2.4 GHz ISM band. With an ultra-small footprint of just over 3 square centimeters, the new module offers a best-in-class combination of exceptional receiving sensitivity and an optimal output power level in a small form factor. Built on Atmels latest single chip platform, the module comes in two modifications: @ANY2400SC-1 featuring integrated chip antenna and @ANY2400SC-2 with a U.FL connector.
Our goal is to offer the ultimate flexibility for the developers, said Mr. Thomas Lerm, CEO of Adaptive Network Solutions GmbH. In todays compact devices, printed circuit board real estate is at the premium, and our @ANY2400SC modules fit the smallest of spaces without sacrificing a bit of performance. The antenna options further extend the developers capabilities. Finally, our modular software and professional services enable OEMs to drastically cut both development costs and time to market for their wireless products.
@ANY2400SC modules present a fully integrated standards-based solution that contains all the digital and analog circuitry required for tiny wireless devices and eliminates the need for in-house RF expertise. @ANY2400SC-1 module with an integrated chip antenna is ideal for limited space applications, while @ANY2400SC-2 with a built-in U.FL antenna connector enables rapid design-in, using a different external antenna for every application. Both @ANY2400SC modifications are designed to work with various wireless sensing and control applications, using IEEE 802.15.4-based standards, such as ZigBee